Newsletter for March 2023
Namaste and greetings from Nepal!
We believe that you and all your loved ones are in a good health.
Thank you very much for all your support, sacrifices, and believe towards the humanity. We greatly appreciate your love and care and most importantly motivating us to create smiles on many faces supported under our projects in Nepal.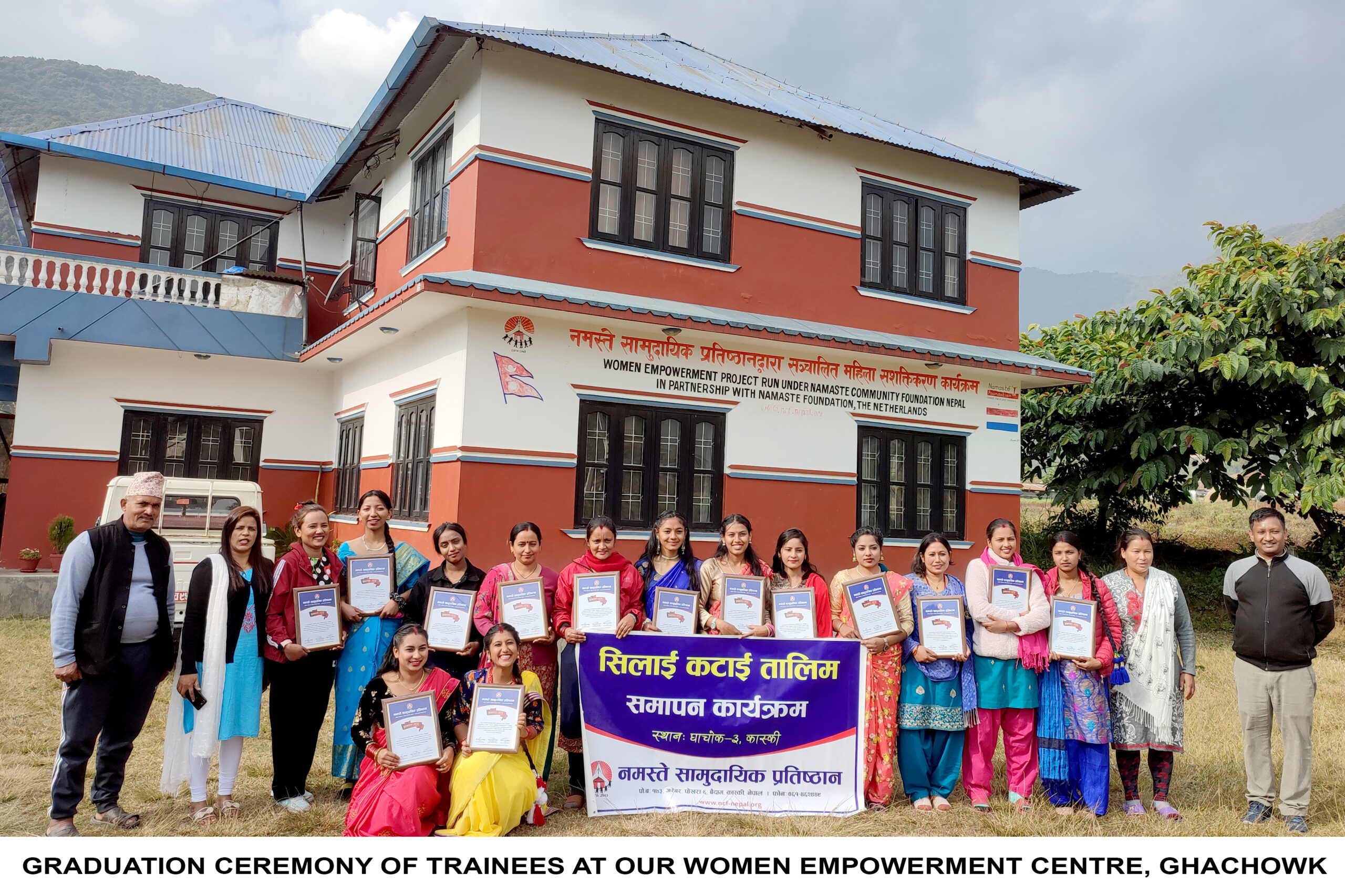 Our social services are about to complete continuous two decades of changing sorrow into smiles and continuing.
I, personally and on behalf of the entire Namaste Community Foundation family, would like to thank you for all of your contributions, sacrifices, and support toward humanity. Thank you all for showing such care & love toward our organization.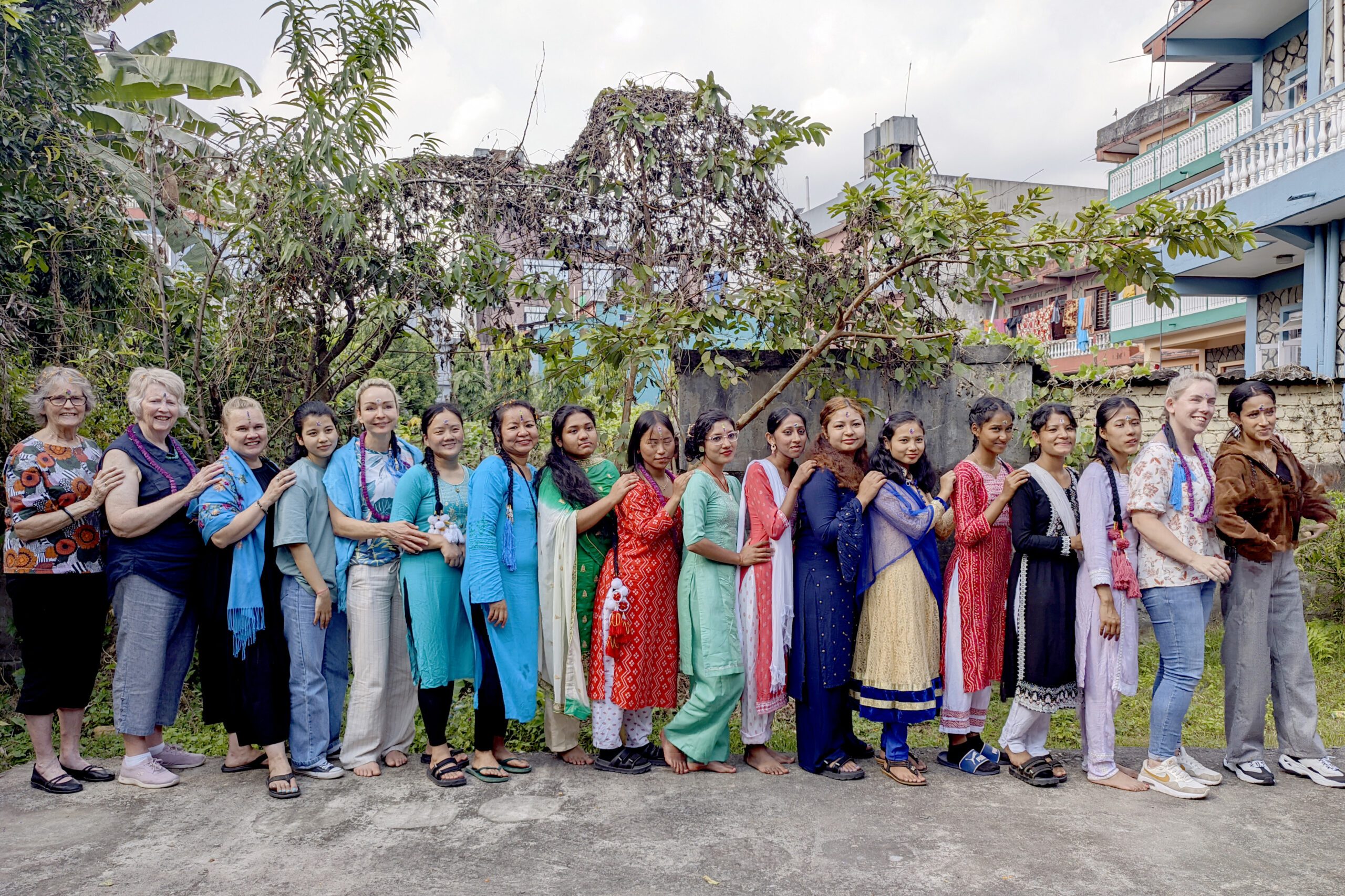 The Covid circumstances had created many obstacles and the ongoing war has made us much difficulties to generate enough sources to successfully operate some of the ongoing projects and thus we decided to discontinue or children home project.
But all these children are still supported financially to pay for their rent, food, education, medicine, clothing and most importantly the regular guidance and motivations. Our women empowerment project including the micro funding support program is running successfully at Ghachowk.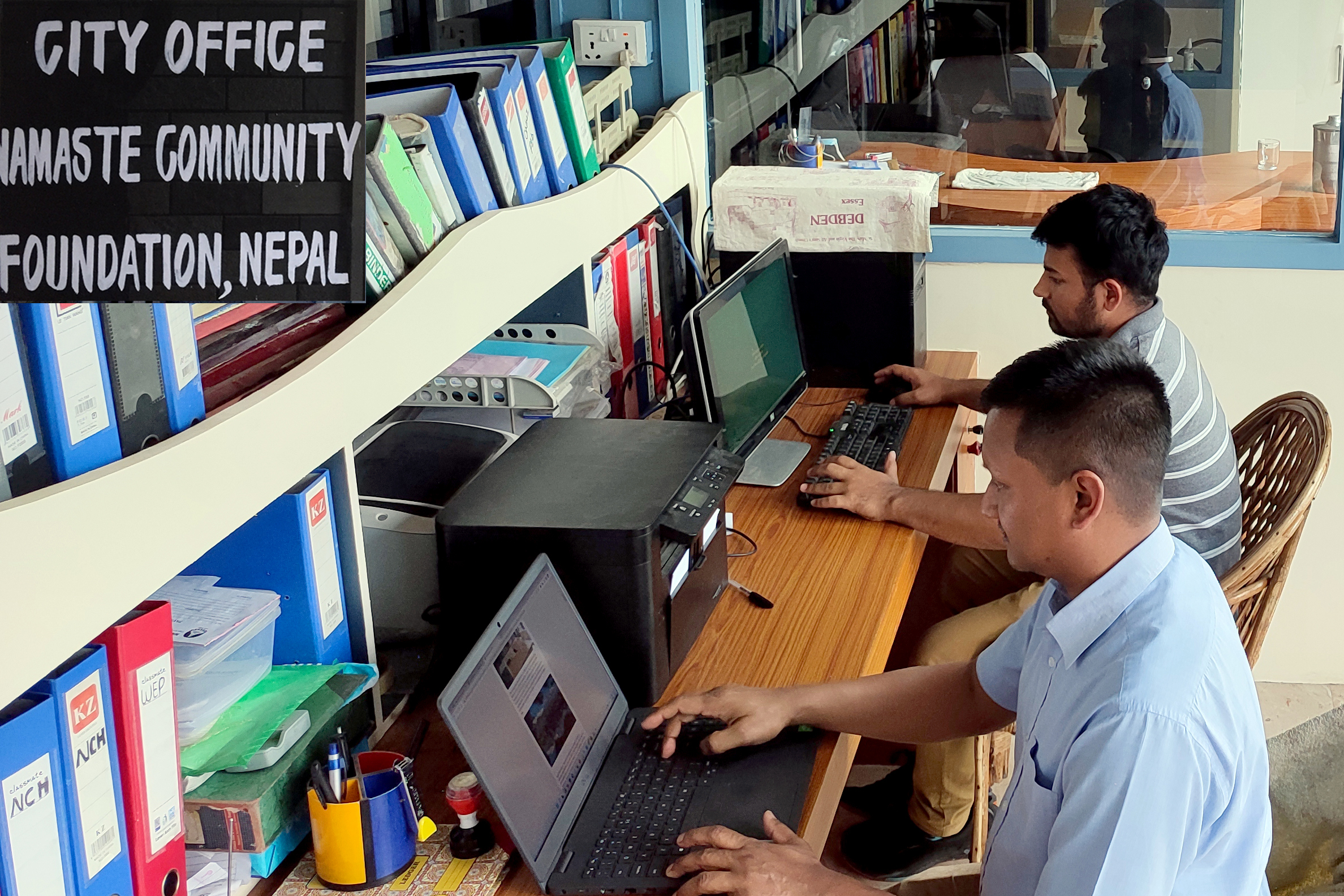 We recently have re-organized our office in same lakeside building. Majority of this building is leased by a hotel, but a small part of the building has been leased by the organization to run the office as economical as possible, at least until we extend our programs and the working team. Leasing the same building will also be beneficial to our stakeholders to contact us, from where we are operating for 20 years now.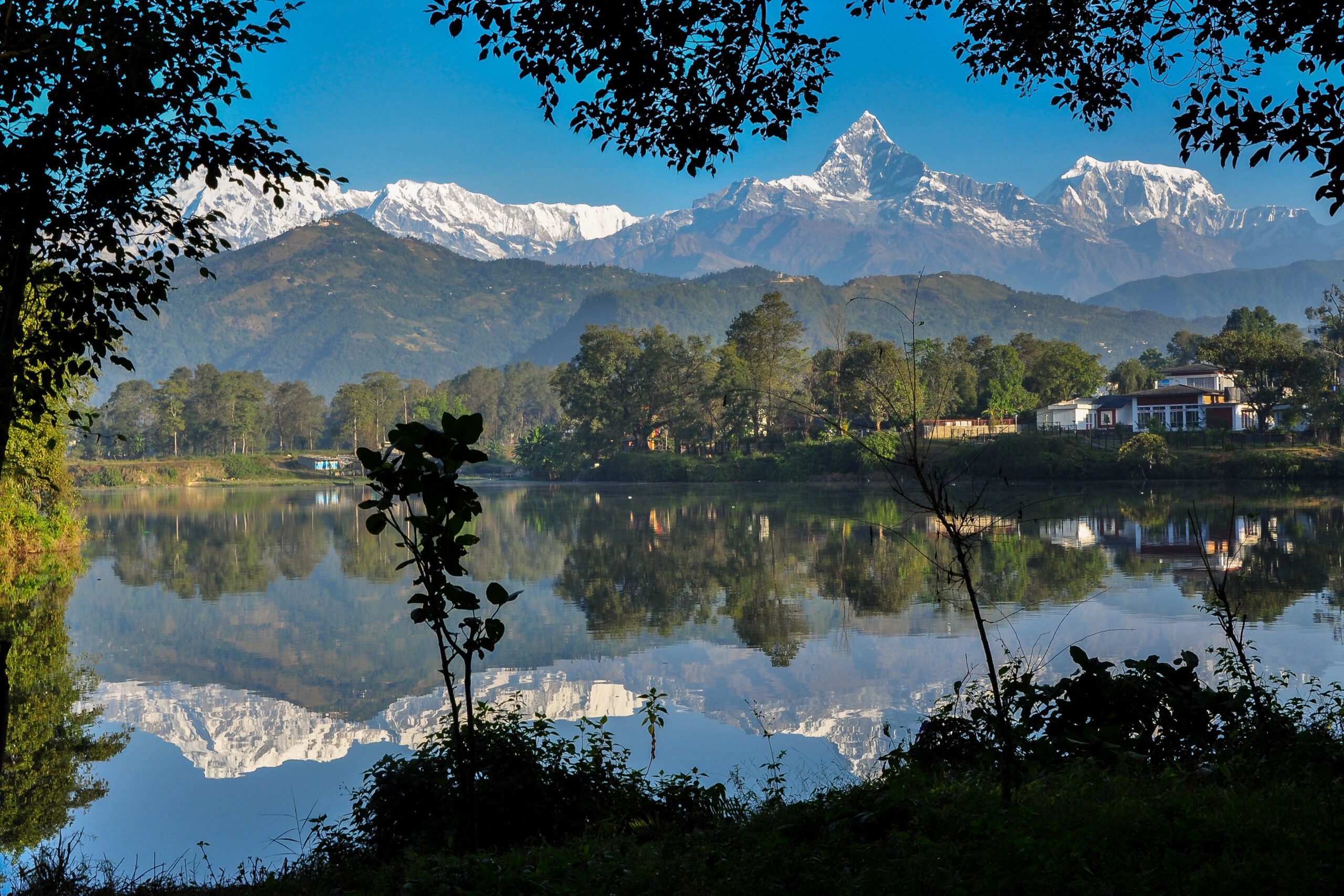 Apart from above, Nepalese entrepreneurs are eagerly waiting to welcome international guests with safe & best hospitality to help explore the physical and cultural jewels of Nepal. If you are planning your Nepal visit soon, please don't hesitate to contact us for any kind of support to make your travel easier.
Stay Safe, Stay Healthy!!!
Regards,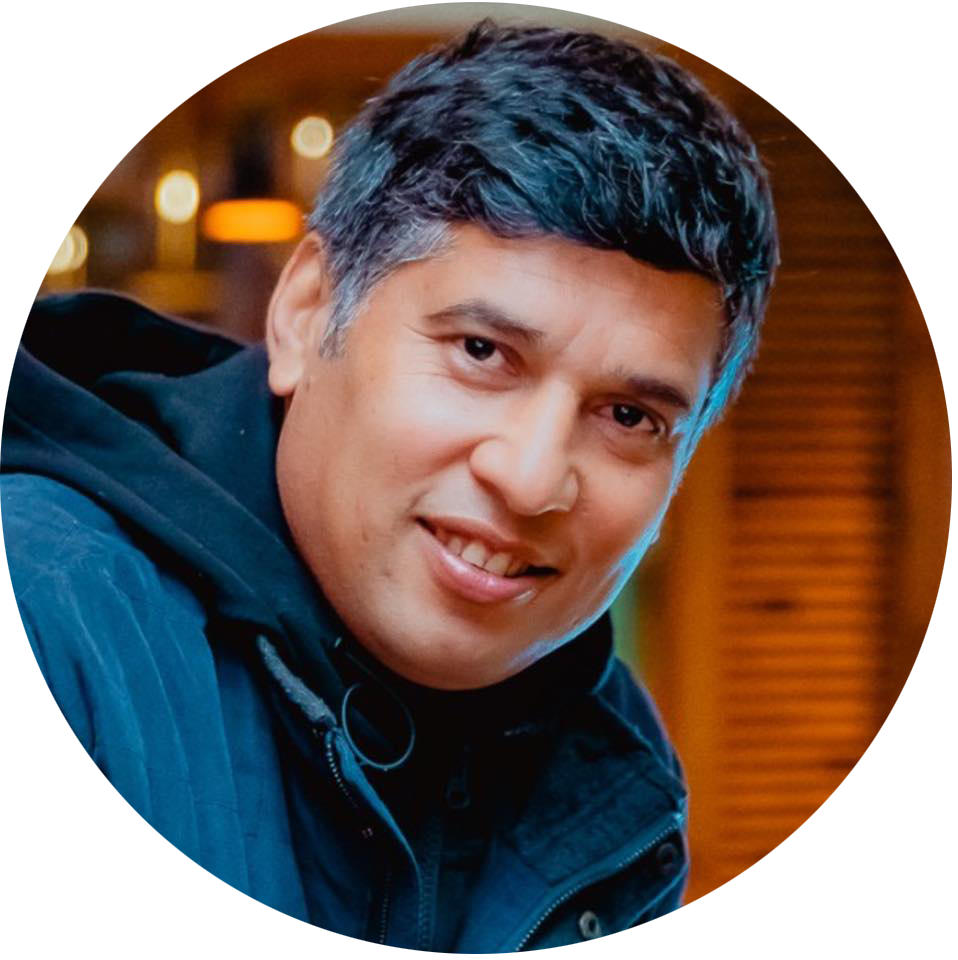 Visma Raj Paudel
Founder/Director
Email: [email protected]
Phone: +977-98560-38109
TABLE OF CONTENTS
Please scroll down to learn more about this edition of our newsletter.
1) Preparation for next training
2) A day with students of NUS
3) I have no worries now…
4) Re-integrating children
5) New office set-up
6) Help to change lives…
1) PREPARATION FOR NEXT TRAINING
Our Women Empowerment Center is preparing for the next Tailoring Training for the single women living around Ghachowk, Lahachowk, Dhampus, Machapuchhre, and nearby areas. The field supervision has been in a full swing and we are expecting to start new training (3 Month's full time) from 1st week of April 2023.
Some selected trainees, who will be joining from fare areas (far from our training center) will be provided with full board service (food, accommodation, training, medical service, etc.) and rest will join the training from their homes. The women who will successful complete the training will be eligible for the seed funding to start their own small business.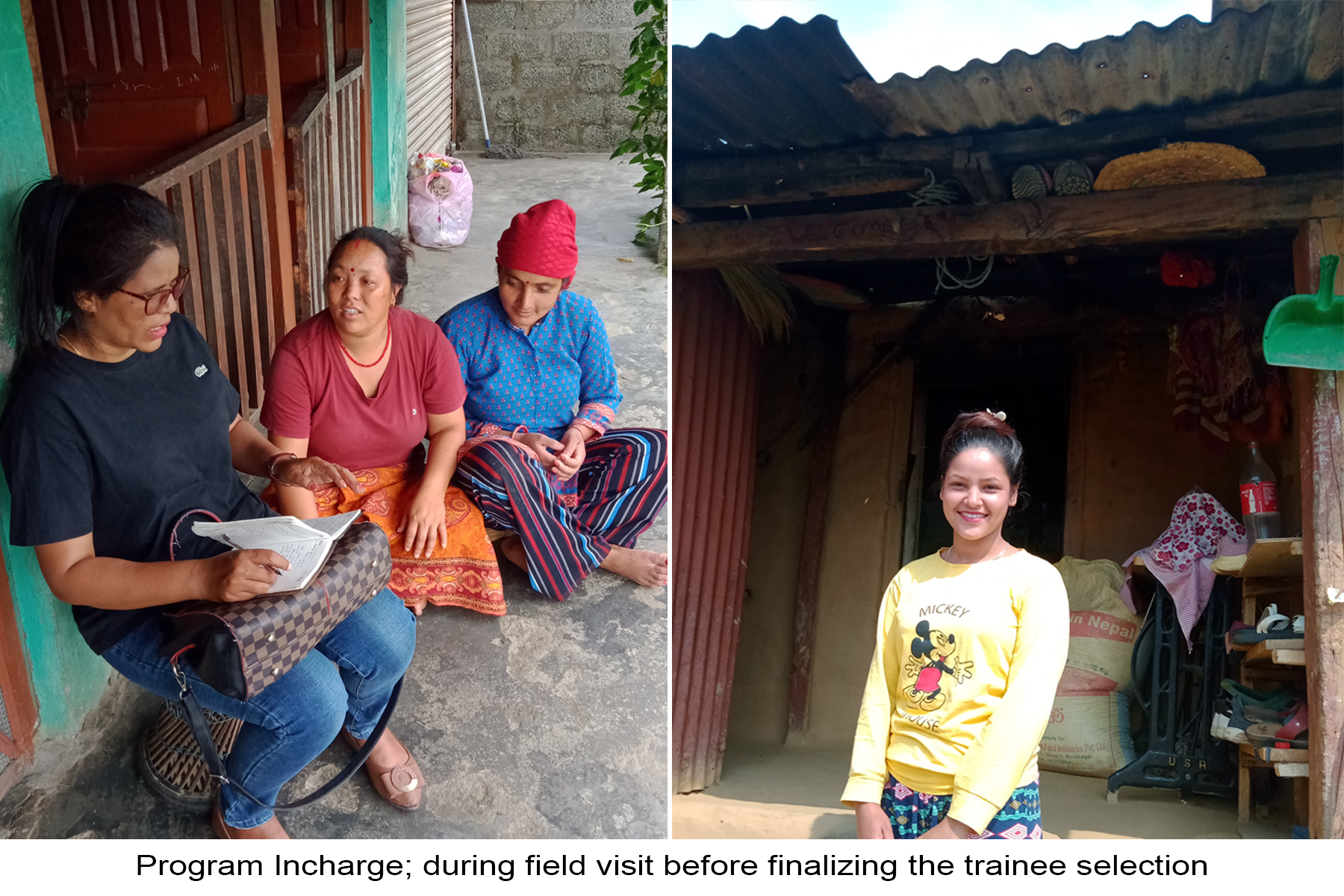 In 9 years of operations, over 270 single women has been successfully graduated from this program and majority of them are succeeded to live financial independence. That means; they are now financially capable to look after their family needs and support their children education. Few of them have already providing job opportunities and transferred their skills to others.
2) A DAY WITH STUDENTS OF NUS
We organized a day program with the students of National University of Singapore (NUS) to share our experience and the way of our social service in the field of needy children and women empowerment in Nepal. A total of 23 students and 3 professors team joined the program and we exchanged our experience with a morning lunch at lakeside.
NUS has been honoured to be in the global Top 10 for 14 of our programmes to shape the student's future. We greatly appreciate the professors' team of Wong Soon Fen, Mukhopadhyay Kankana & Patricia Lorenz for choosing us in their international tour program.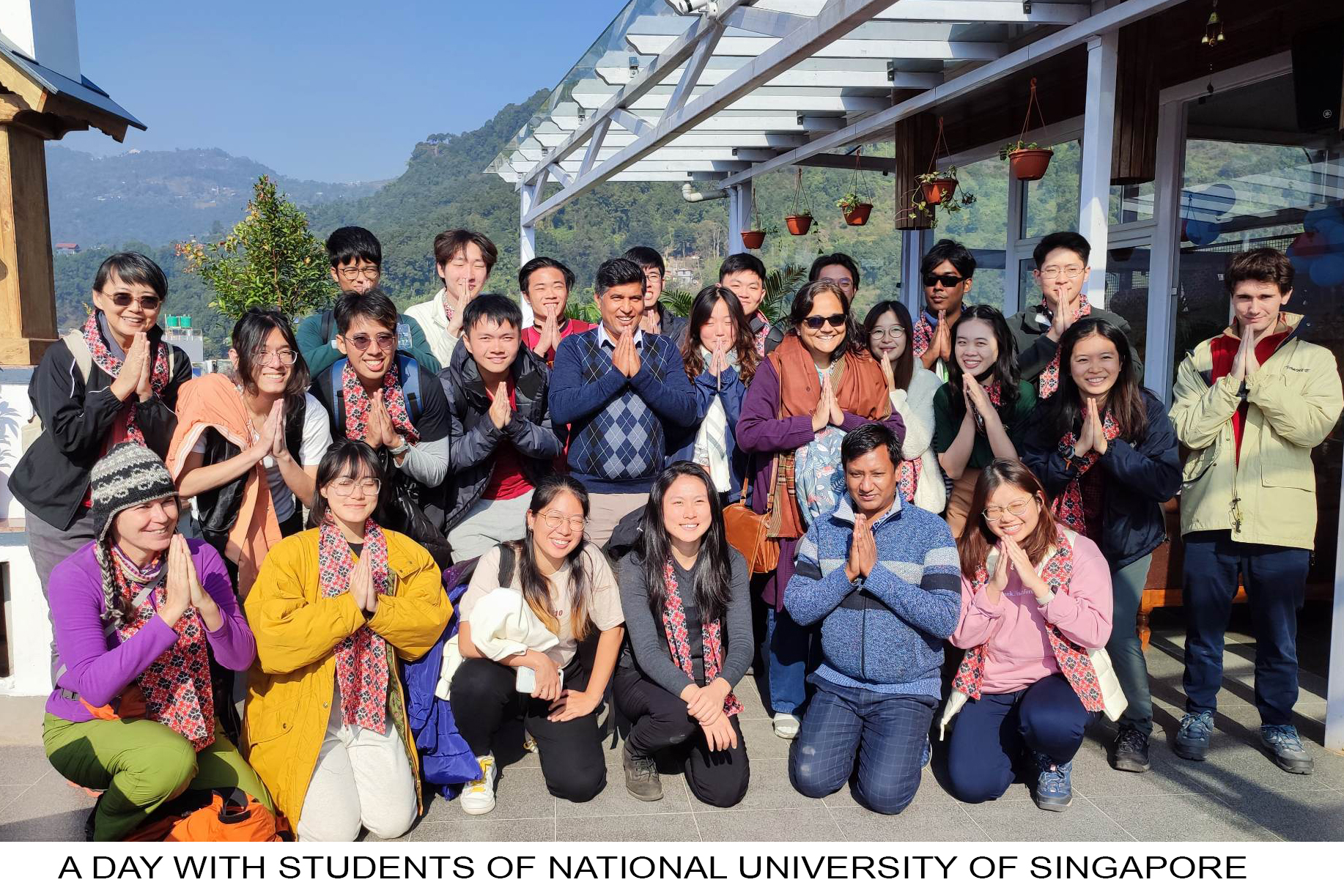 3) I HAVE NO WORRIES NOW…
My name is Tulasi Karki/Pokhrel. I have a 10 year's old son. My husband committed suicide when my son was just about 6 months. Because of my partial disability, I can't walk long or work for continuous hours as other women do. I used to go for seasonal work in my neighbour's farm. But this wasn't enough for my living and to take care of my son.
I felt terrible, when I couldn't provide daily meal or pay for my son's education. One day, I heard about the Free Training opening from one of the women in our village and I couldn't miss the chance.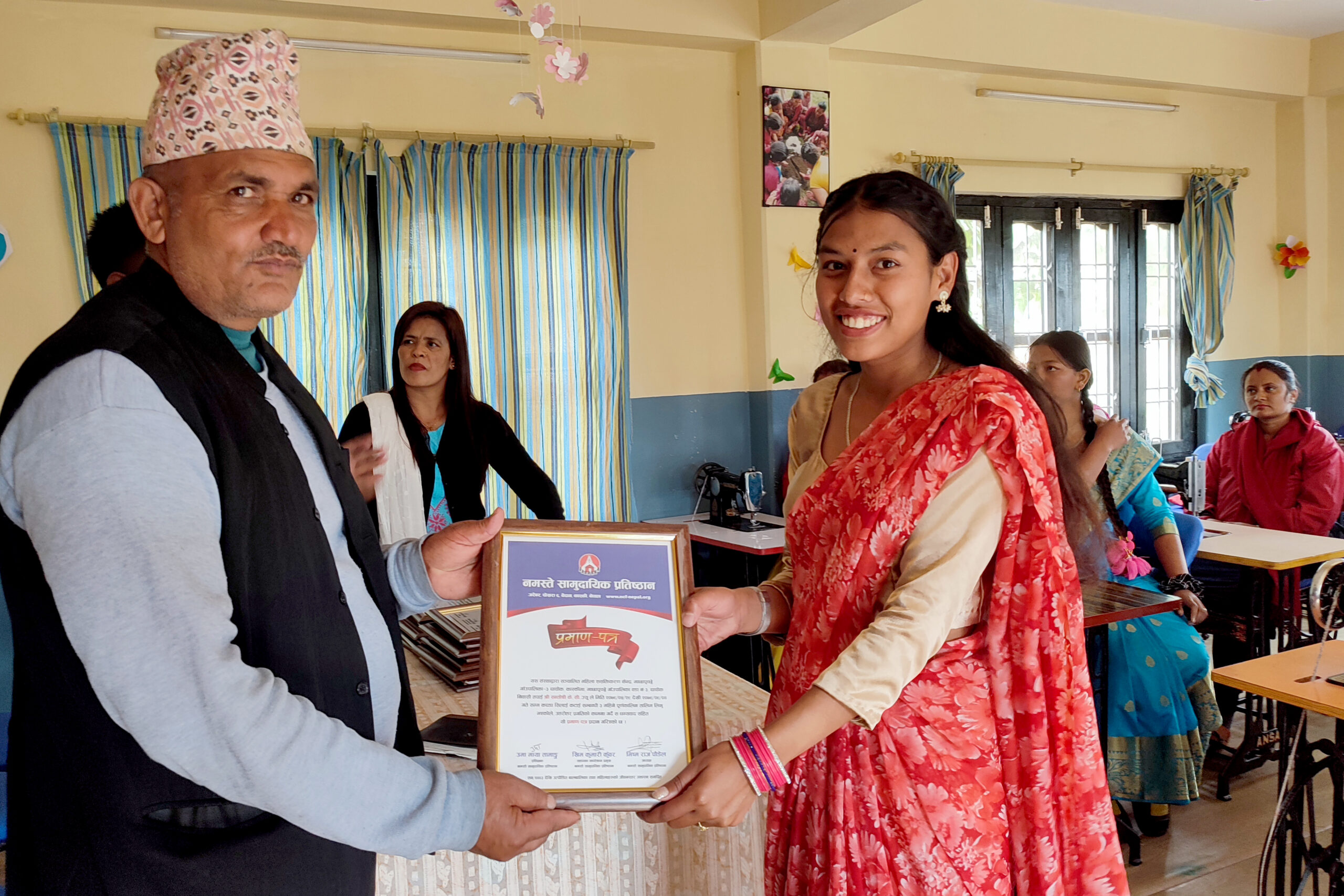 It was Namaste Community Foundation, who was providing all free training including materials, on board meals and accommodation. I was happy to be selected as I never had chance for such opportunity in my life.
I sincerely learned the skills and after completion, I requested for a small loan to establish my own tailoring shop. It was dream came true for my life and for my family. I now have my own little shop, where I spend my days and being able to an independent woman.
She says, "In the early days, customer did not come to stitch clothes. Because they thought I couldn't stitch well. They used to bring old and torn clothes. But when they see my best work, they nowadays people bring new clothes and new customers. I am managing my household expenses from tailoring income. This work perfectly suits for me.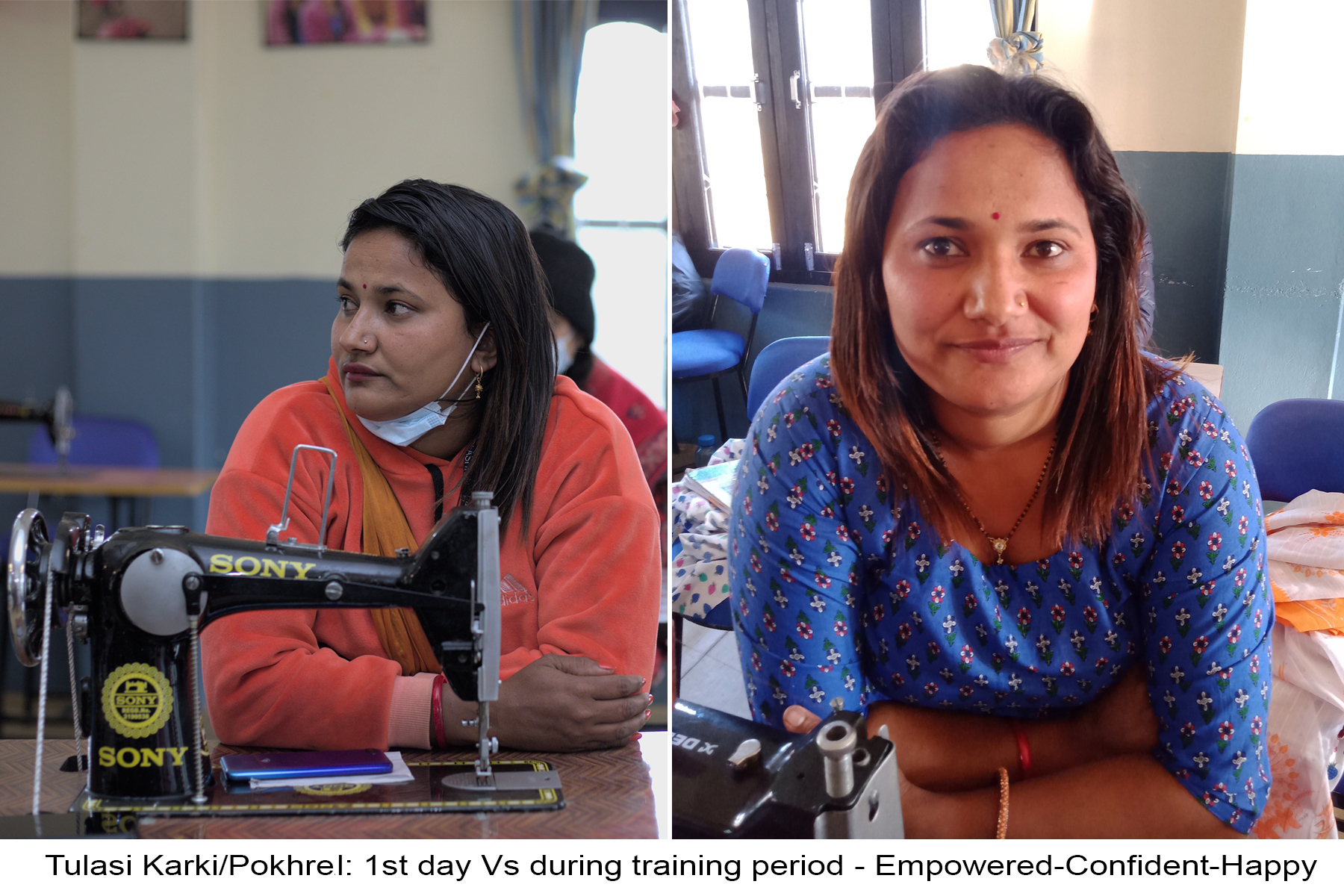 I would like to thank Namaste Community Foundation Nepal & Namaste Foundation for helping disabled, single and poor woman like me. Now I am able to earn myself and I have no worries about my financial needs. I am fully independent women now."
Now she is planning to extend her tailoring shop in the market area and wishes to give opportunity to other women like hers.
Tulasi Karki/Pokhrel
Kristi, Pokhara
4) REINTEGRATING CHILDREN
Namaste Community Foundation has decided to reintegrate all children from Children Home Program; but still continue supporting under extended family support. We are now teaching them to live independently outside the children home. They are provided with all financial support to cover the regular daily needs, like: house rent, school fees, books and stationery, medical expenses, and so on.
They are also guided regularly and supported wherever needed. Altogether 14 children are regularly supported outside children home and placed them depending upon the children's situations.
While reintegrating, we kept the following possible options:
1) Living with siblings: Some children, who have siblings have been reintegrated to live with their siblings and still supporting to continue their education or vocational training.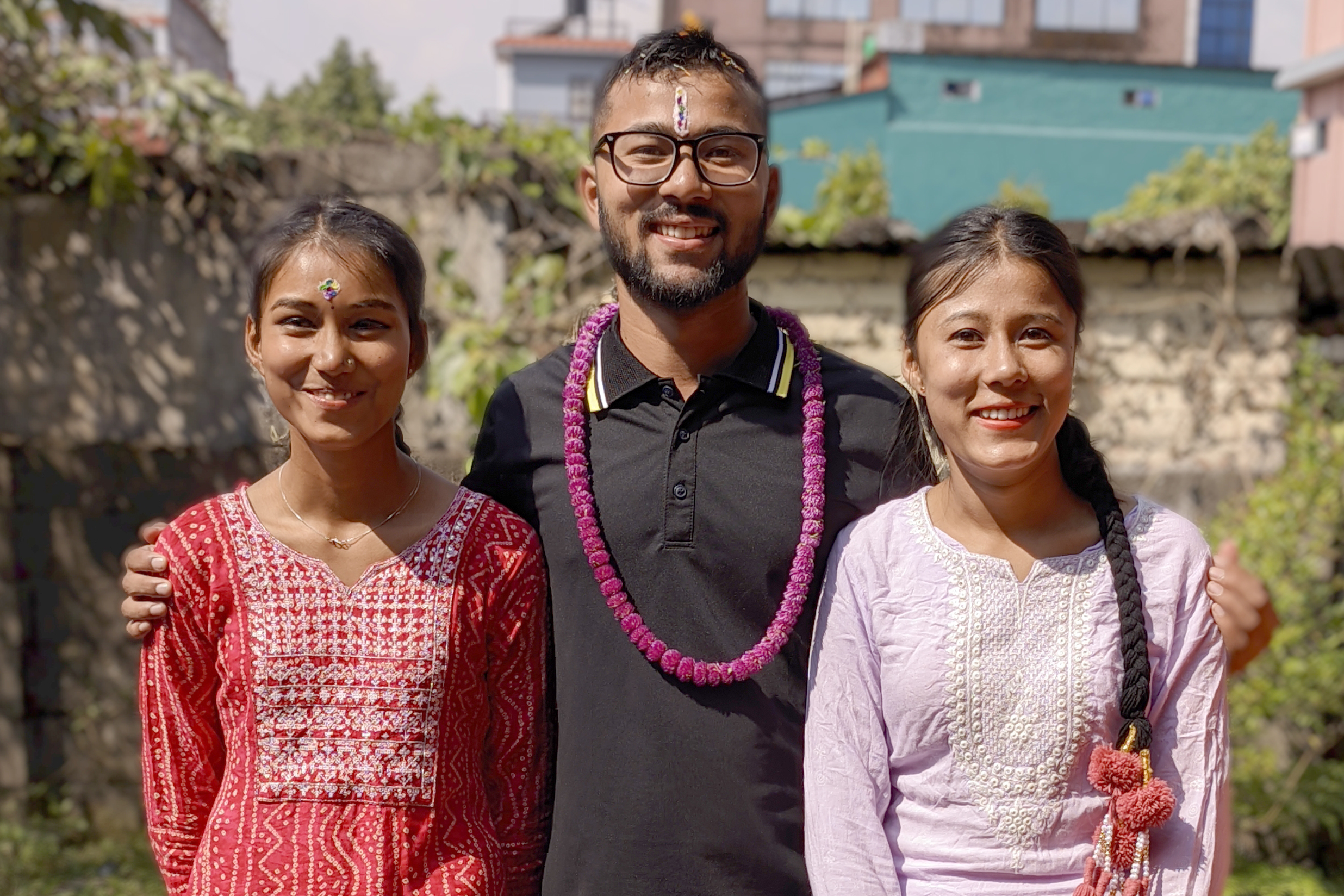 2) Family Reintegration: Some of the children with single parents have been reintegrated to live with them. But as most of them are struggling with their own needs, we are still supporting for daily needs.
3) Living in a group: Some children without any siblings or relatives or family members, have been reintegrated with one of our house mummies (staff) and house brother to live in a small group consisting of 6 children. They are financially fully supported for their living, education, etc.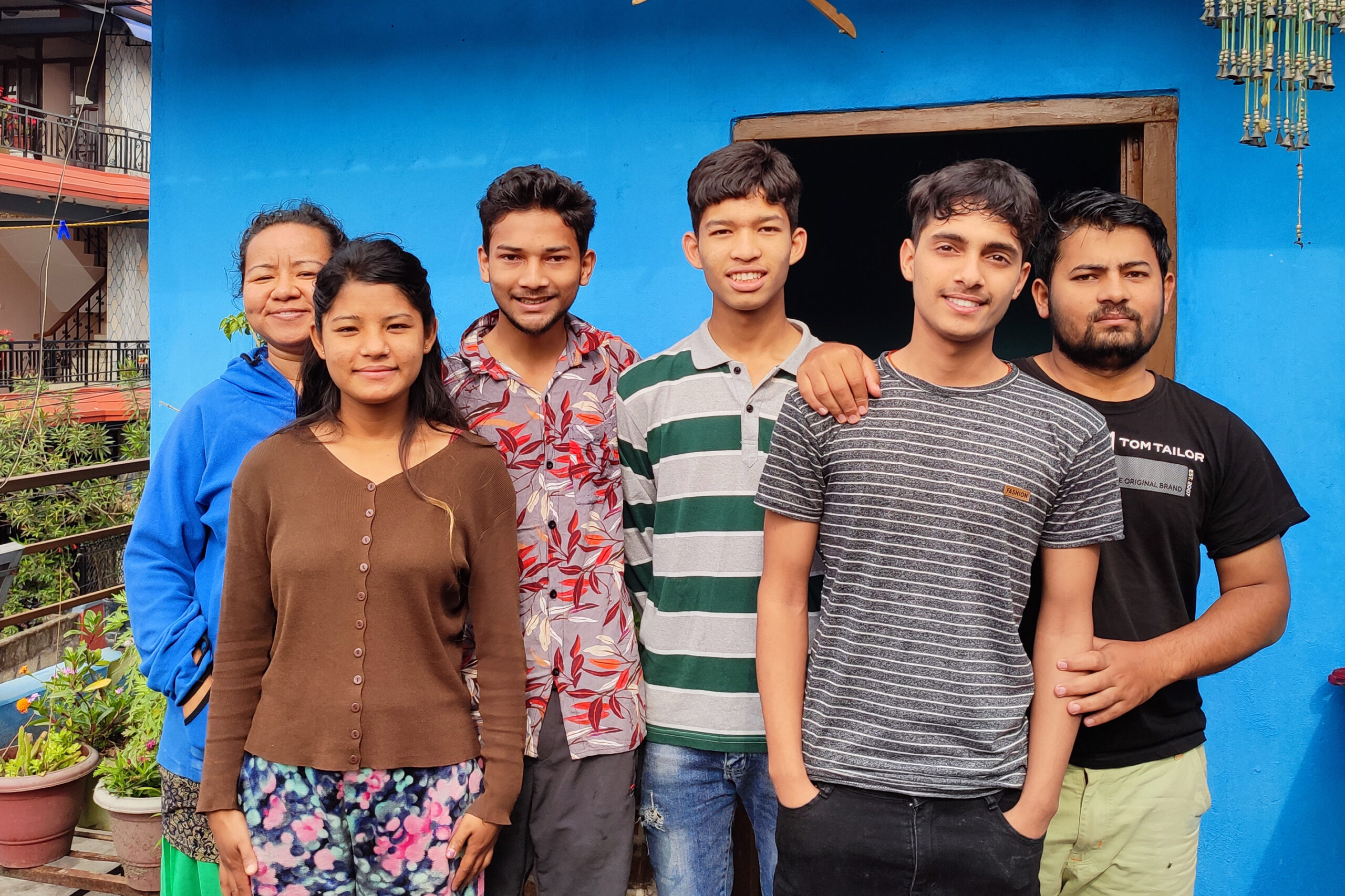 4) Vocational Training & paid job: Some children who were not good on formal education were provided vocational training according to their selections. This includes: Barista (Coffee making), Electrician, Receptionist, Cleaning, etc). After training; they are also supported with on the job training and paid job offers in Pokhara and nearby cities. They are now happily fully reintegrated, yet they can visit our office for any support or guidance.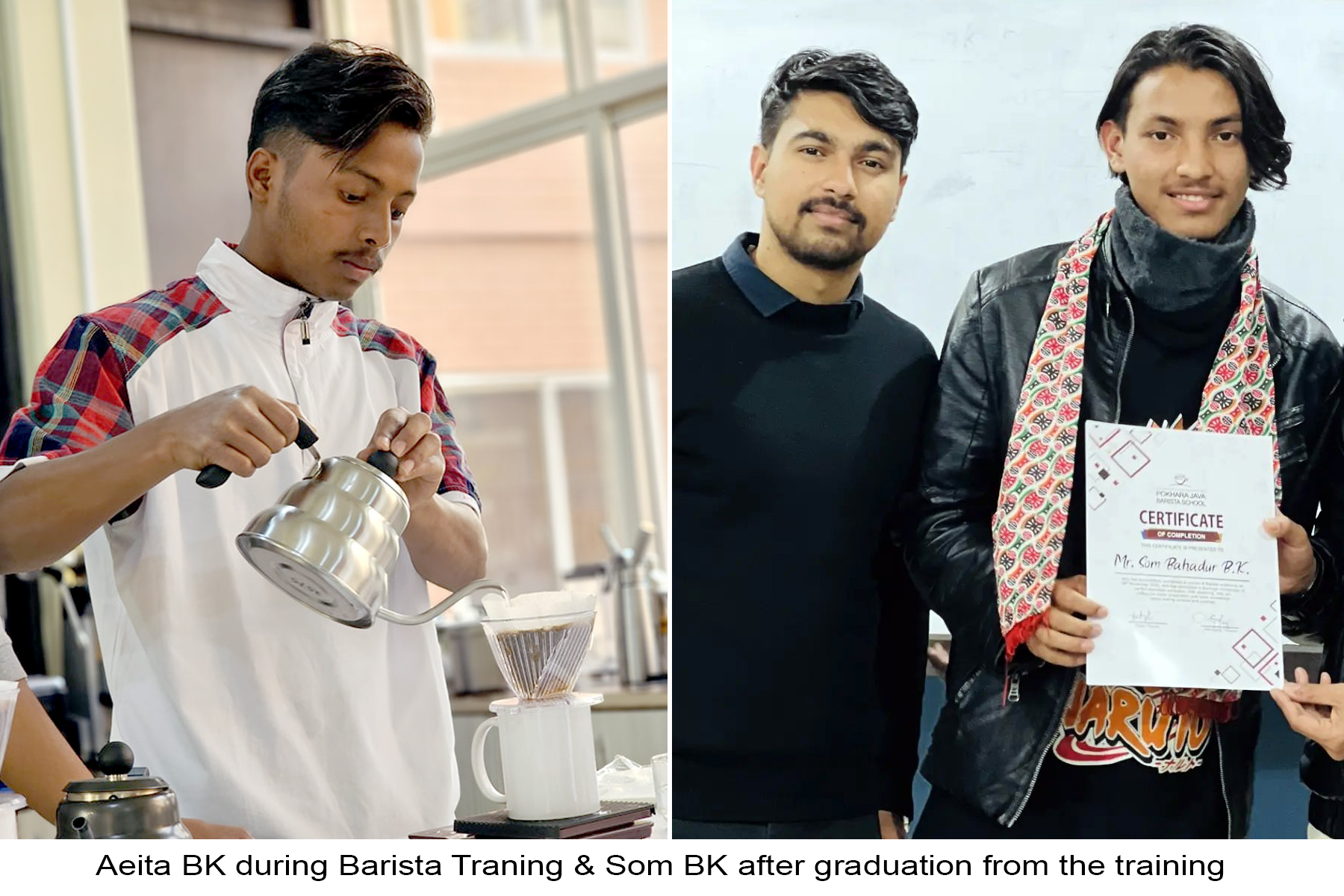 5) NEW OFFICE SET UP
We have set up a new office in the same building, where NCF Nepal had been operating all programs from June 2003. Later due to less no of children in children home, we had shifted the children in smaller house in Ratnachowk (which eventually has been discontinued recently). The old house was under construction for 2 years and yet, our office was operated from the same building.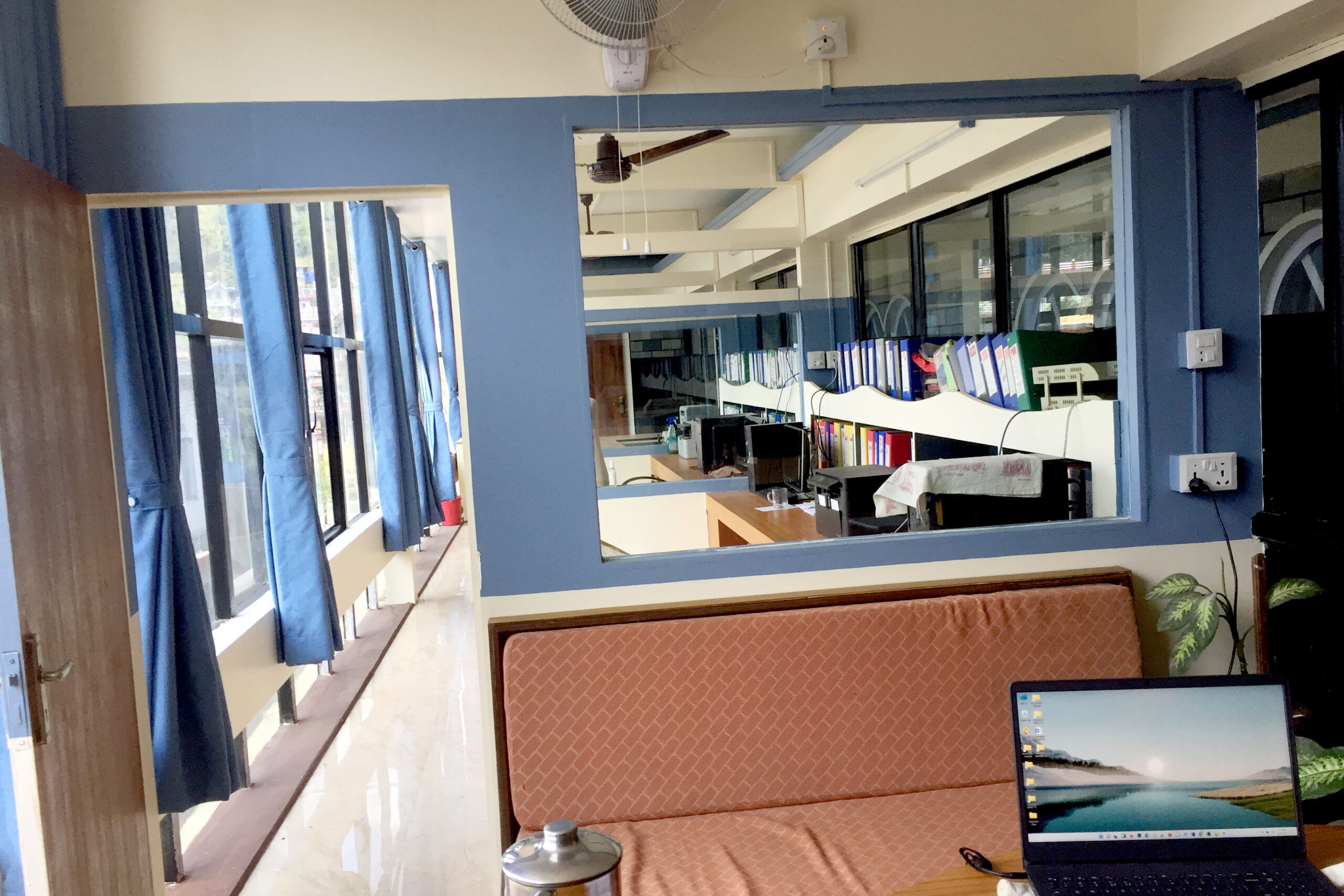 Now the whole building has been leased to business group (Hotel business) and we are renting small part of the building to operate our general administration/office. This step supports us to run economical (to cut the expenses down) as far possible and make easier to find us by our stakeholders.
We have been continuously operating our office in same building for 20 years now. Since, the business group is from our chairperson, it would be easier for him to support both organization and personal business in daily basis.
6) HELP TO CHANGE LIVES…
We thank you for your continuous love and generosity for so many years. Thousands of kind hearted people around the world have joined their helping hands with Namaste Community Foundation, Nepal to make a positive change through our various ongoing projects in Nepal mostly with needy children, women and people of Nepal since June 2003.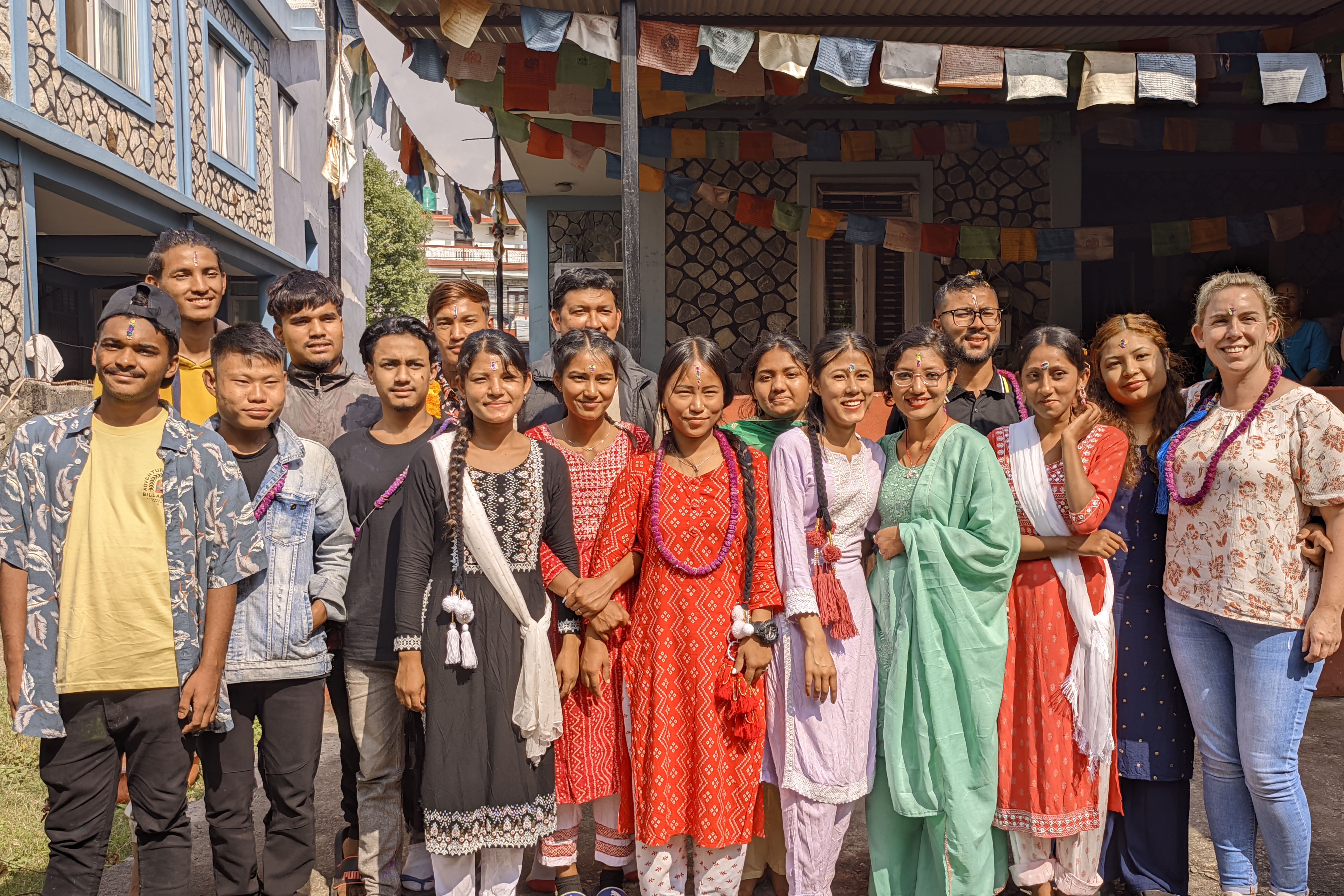 If you are willing to spreads happiness for more people, we invite you to make a gift toward our work for needy children & women living under our care.
For that, please click the link https://www.ncf-nepal.org/donate-us/ to donate us through PayPal.
Or directly into our bank account in Nepal
Beneficiary Name: Namaste Community Foundation
Bank Name: Standard Chartered Bank Nepal Ltd
Account No: 01-1269968-01
Swift Code: SCBLNPKA
Please share this list with your friends and family. They may be struggling to find you the perfect gift!
Any amount donation is greatly appreciated. For more enquiries: [email protected]