Christmas Appeal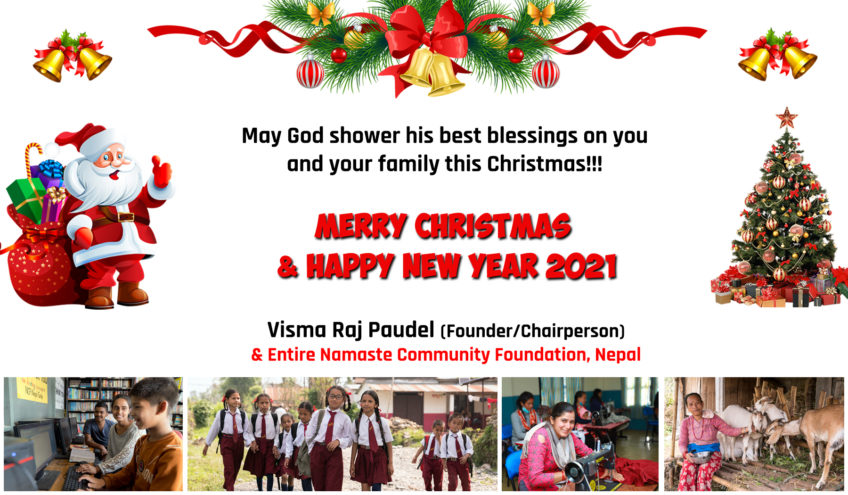 For our 2020 Christmas Appeal, we would like to invite you to make a gift toward our work with needy children living under our care in Nepal. You can choose any option that's suitable for you. If you want to be a part of the Christmas wish list below, you can simply donate through PayPal or directly into our bank account in Nepal (Beneficiary Name: Namaste Community Foundation, Bank Name: Standard Chartered Bank Nepal Ltd, Account No: 01-1269968-01, Swift Code: SCBLNPKA).
For more details, click this link: https://www.ncf-nepal.org/donate-us/. Please share this list with friends and family. They may be struggling to find you the perfect gift! After receiving the donation, we'll gladly send you the money receipts for the donations received, which you can then pass on to the recipient.
Here is a partial wish list:
Laptop computers for children (400 USD per computer): Because of the pandemic situation, most of the schools have started online classes. But because of the limited number of computers (donated a few years back by Vicky and Kenny Allen, USA), it has been very difficult to manage the classes and provide for all 26 children at home. It forces us to use our personal mobile phones for some children. We need around 4 basic educational laptop computers for our children for study.
Winter Clothes: The winter has already arrived at our home and we need to provide some winter clothes for our children as soon as possible. Winter clothes would include jackets, trousers, woolen caps, socks, stockings, gloves, etc. The cost per child would be 50 USD for each winter clothing set. We have altogether 26 children in our children's home right now. (1,300 USD)
Blanket, bedsheet, and cover sets: We have been using the same sets for many years now and it's time to repair or replace them. Replacement sets (blanket, bedsheet, and cover) will cost around 50 USD per child. We have 26 children altogether in our home.
Scooter: We have been using our old scooter to buy daily necessities and to take our children to the hospital or sometimes to visit their schools. But, because it is old, the repair and maintenance costs are very high. Buying a new scooter would cost around 2000 USD, which is a lot of money. If anyone would like to gift a second-hand scooter, we can buy a used scooter in top condition (2-3 years old) for around 1200-1400 USD. The house mummies would solely use this scooter for the daily house necessities.
Camera: NCF-Nepal has been using gifted cameras for taking pictures and making children's videos of our daily house activities. Most of the time these cameras do not produce quality pictures because of the low light conditions. We would like to ask for a new basic DSLR camera, ranging in cost from 400 USD to 1000 USD.
NCF-Nepal appreciates any size donation and your wholehearted support will go directly for the children's well-being.