Our undying gratitude !!!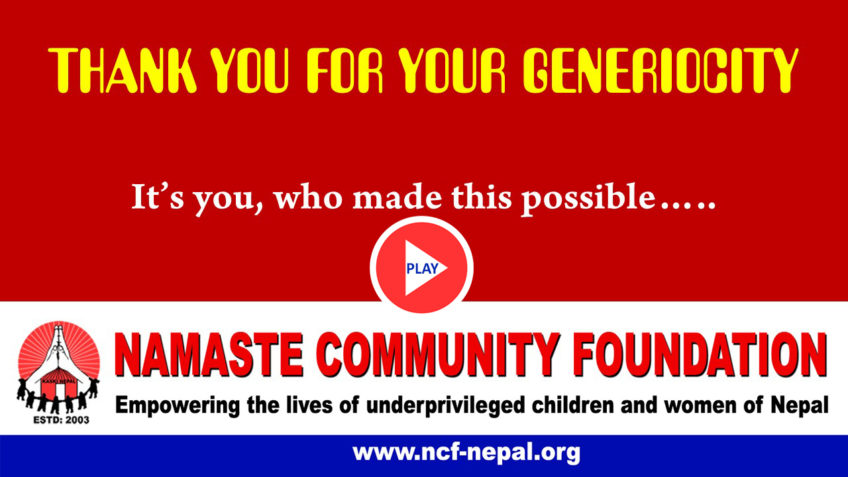 We greatly appreciate Namaste Foundation, Netherlands; who has led and greatly succeed the major fund-raising and other supporters like: Sirius Foundation, Wind of Change International, Robert Goedegebuure, Nico Lunenburg Foundation, past volunteers, individual supporters, NCF board, ground level staff and well-wishers from Nepal and abroad.
It's you, who made these work possible. Here is the list of major activities performed:
1) 30 million rupees (Approx.: 24,000 Euros) to establish dedicated covid care hospital to buy hospital beds, oxygen machines, and other related equipment
2) 4 course meals for 4 days for 60 covid patients in hospital
3) 100 families with 1 month grocery relief support
4) 650+ families with 1 day meal support
5) Medicine and other essentials to 45 covid patients
6) Covid safety gears to 1000+ families in Madi Village Development Committee, nearby Pokhara.
7) Covid safety gears and pocket money to 20 ambulance drivers
8) And many other small supports to those in need.
Your support, kindness and encouragements are always essential to make a positive DIFFERENCE in the lives of children, women and other people of Nepal since June 2003 through various programs like: children home, scholarship support, women empowerment, school support, etc.
We also have been supporting in most of the natural disasters like: earthquake, flood victim, etc. in a best possible way we can.
The smiles that we have been creating continuously from 19 years and ongoing in Nepal is only possible through donation, love and care from generous people like you & many others.
For more details: https://www.youtube.com/watch?v=6a1jaEM36cE
- Published on August 3, 2021