We (Namaste Community Foundation) have successfully completed our 14th years of establishment. We took initiation in starting up various projects to help the children and women in a desperate situation. Our aim to come up with these various projects is to uplift the living standard of women so that they can feed their child, educate them and provide them with a quality life by their own.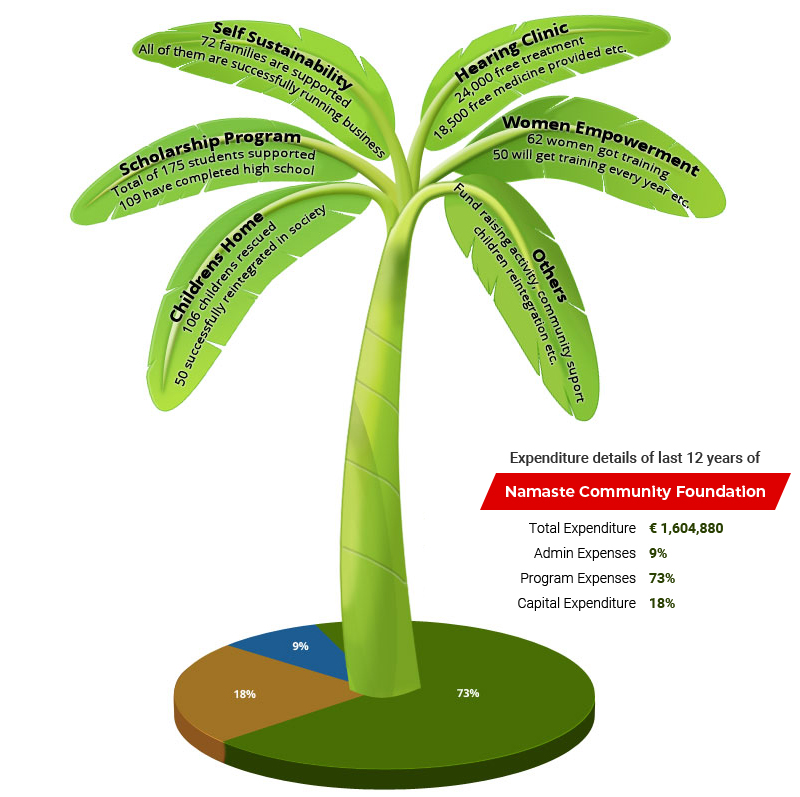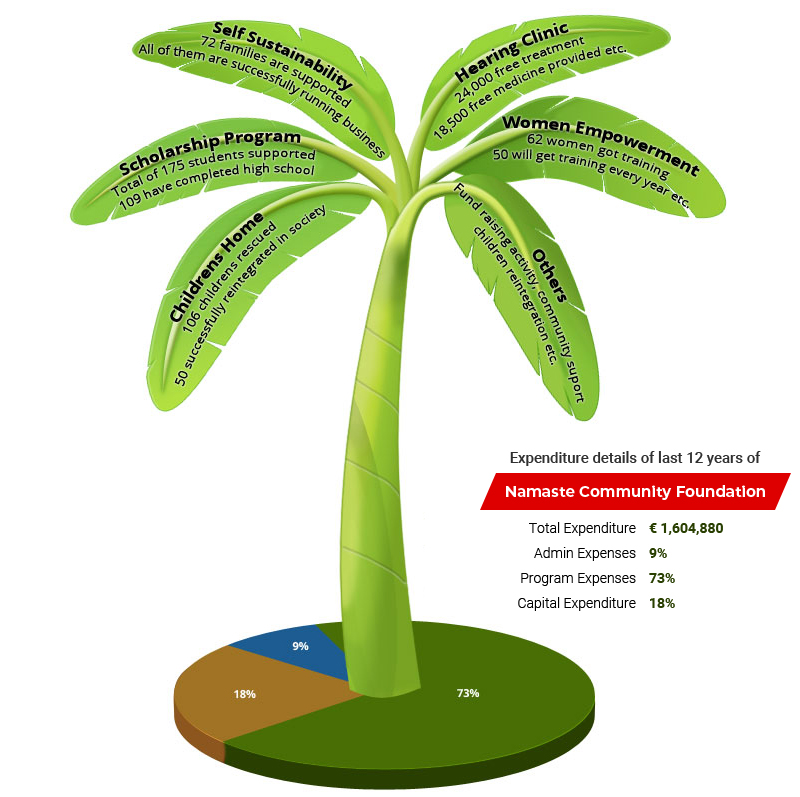 We have tried to present our activities and its impact that we has been created in the last 14 years in the most attractive way possible. The tree above is the full phase reflection of our activities. We have shown our total budget allocation at the base of the tree. We have been using 9.58% of the total budget as admin and office expenses, 1.84% as capital expenditure, 20.65% on school reconstruction and remaining 67.93% as program expenses.
Similarly via our various programs we have tried to serve the community and the nation in the best way possible. From Children House we have rescued a total of 106 children from different situation and 73 of them have been successfully re-integrated back to the society. Likewise from scholarship program we supported 175 children in their education and 142 of them have already completed their high schooling. We are still supporting 33 children for their education.
In addition we also introduced Family Self Sustainability program (Catch the Fish) to support the single and needy women of Nepal. We have supported 118 families and many others are still in pipeline. All the women supported by the program are running their business successfully.
Unlike other programs we established Hearing Project Nepal in the support of David Hine (Australia) in the year 2010 and succeeded in providing free treatment to a total of 20,000 people till date. We also did free medication, free hearing aids and counseling to them.
Last but not the least we started with the Women Empowerment Project (WEP) in the year 2014 with the financial support from Namaste Foundation – Netherlands. As the first phase of our training, we started with Tailoring training where we provided training to 19 women from Ghachowk, Lahachowk, Machhapuchhare and from surrounding villages of Pokhara. We have set a milestone of providing training to a total of 50 women in a year."