The Board of Trustees from the registered Nepali NGO, "Namaste Community Foundation" is responsible for managing the accounts and the overall running and direction of the project. The annual audit is transparent and available to all donors/founders and concerned bodies. Day-to-day management is carried out by a group of qualified and dedicated employees. A Project Advisory Committee (PAC) was formed in 2005 to review all NCF projects and activities on an annual basis and provide necessary suggestions and recommendations to the Board of Trustees.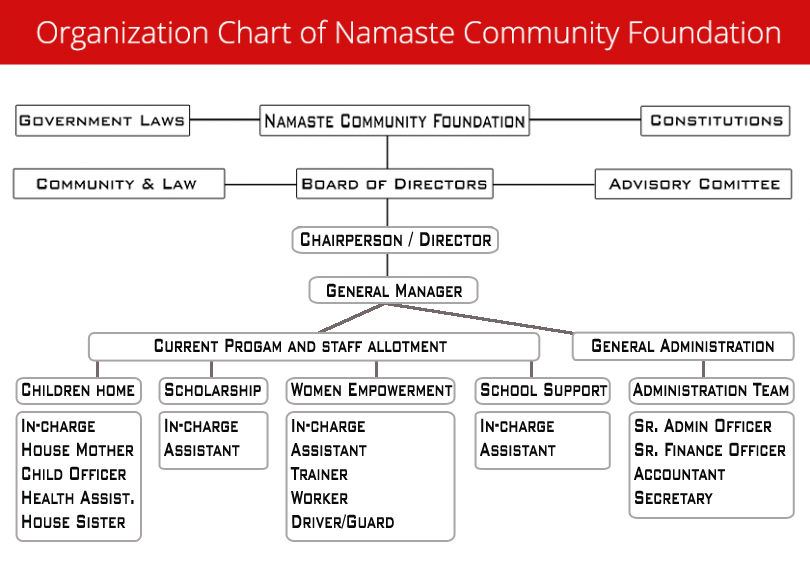 Visma Raj Paudel (Founder/Director) works closely with and coordinates the efforts of our donor agencies, experts and staff. He and his management team, while working with other organizations, manage the day-to-day office work, such as, the supervision of the various programs, the administration, the children and the government documentation. Additionally, Visma works with donor agencies to assure that the projects are carried out as per the guidelines set forth by our Board and to accomplish NCF's goals.
Altogether, over 26 staff members work daily to run all the projects under Namaste Community Foundation which includes: two children's homes, the scholarship program, the family self sustainability program, professional support and internships, hearing clinic and the women's empowerment project. The staff is responsible for looking after the children and various projects on a day-to-day basis. All of the staff are dedicated, qualified and caring. They have a huge impact on the children's lives in NCF, and there are now a number of the children who see their future in helping others like themselves.
All NCF activities are conducted in close coordination with concerned local organizations including the Child Welfare Committee, the Village Development Committee (VDC), the District Development Committee (DDC), along with Central Board organizations, other NGOs, municipalities, the District Education office, the Police Department and the essential central level authority.