"Creating opportunities for helpless woman"
This program not only provides training for single women living below the level of poverty but also provides psycho social counselling and business classes. Women are motivated to start their own business by communicating the success stories of different personalities.
"The Women's Empowerment Project (WEP) is designed to empower single women who have been living nearby Pokhara and Ghachowk, yet have many difficulties obtaining the training and skills necessary for employment due to their poverty level.
Many women and girls have been exploited in horrific ways such as: sexual abuse or trafficking of young girls who end up in the brothels of Indian cities. Due to illiteracy and gender inequality most of the domestic violence is kept secret with the fear of losing social reputation mainly to prevent possible rejection from their male counter parts. There are no clear laws to deal with this situation.
The empowerment of the women will be one big step forward to overall development of the nation. As Nepal has already entered into a new age of change, equality between male and female should be one of the top priorities for policy makers. Unfortunately, the policies are determined slowly and have not been implemented yet into society. Our organization aims to reach the society by implementing this project from the bottom up, by providing the women with the necessary skills.
To start this program, we have already taken a big step forward. Together with Wilde Ganzen & NCDO Netherlands, the WEP building has been completed and is in operation. We have already conducted three months of training in tailoring and a second phase of training on agriculture and livestock has recently been started. This program not only provides technical knowledge but also provides enough motivational classes, business classes, counseling service as well as micro finance support so the participants can implement their knowledge and skills into their everyday lives."
Impact of this program
Up to now, a total of 108 single women from Ghachowk, Lahachowk and Machapuchhre villages and other parts of Nepal have gotten training in tailoring and Agriculture and Livestock taining.
Three times refreshment training was done to enhence the skills of the women after the training . In which 69 women participated in refreshmet traning (20 agriculture and livestock training and 49 sewing and tailoring training).
Another 20 – 25 single women are in the process of getting Sewing and Tailoring training starting from Septembert 2017.
A total of 50 single women will get training every year; mainly in tailoring, agriculture, livestock farming, handicrafts and other areas as per need.
A production center has been set up to take the steps toward project self-sustainability.
Many of the women have started their own small businesses and a few are working for others from micro support form NCF Nepal.
Photo Gallery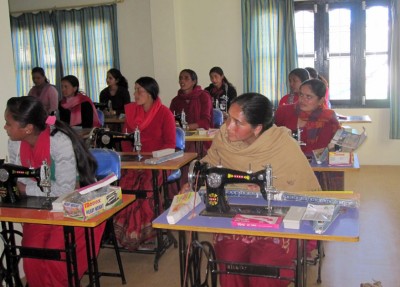 View All Pictures