Supporting poor children for continued education
Under this program students receive a continuous scholarship support until they receive their school leaving certificate examination. Children getting scholarship support will be admitted in a Government school by covering all school cost, costs for two pairs of uniform, shoes, socks, stationary materials, books, school bags, transportation etc.
NCF Scholarship Programme was developed in August 2004 as a result of fieldwork. When visiting villages and rural areas, many families were found to be without the financial resources to send their children to school, although they were quite capable of looking after their own children with some financial help. Therefore, NCF decided to support these children in attending the local government school by helping them with admittance fees and by covering other costs such as medical expenses, books and uniforms related to their attendance at the school. Depending on the financial situation of the family, children are provided with either full or partial scholarships. NCF monitors the attendance and performance of all of the scholarship children.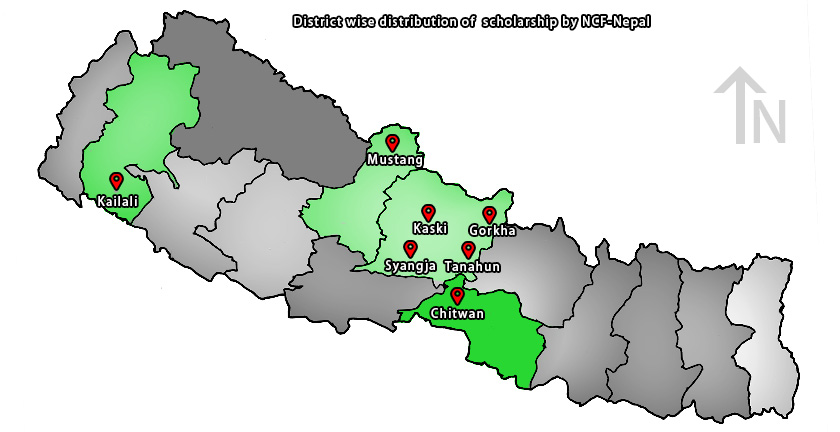 Currently, 33 children are supported regularly. Another 142 children were reintegrated successfully after the completion of the basic school level (10th grade), marriage or migration to other orphanages. Some were terminated because of continuous bad performance.
Scholarship Sponsorship Form
Impact of this program
Up to now, a total of 175 poor and needy children from traumatic backgrounds in Kaski and surrounding districts have been supported to continue their education.
This program is providing quality education, healthcare and love while allowing these poor, needy and half-orphaned children to stay in their family homes.
142 out of the 175 children have successfully completed their 10th grade (up to the support limit rules). 33 children are still supported regularly.
Some of them have already gotten married and are now a responsible parents.
Many of them are currently working in various sectors and are financially supporting their families.
Securing support for their education is also empowering their future and creating responsible citizens.
Photo Gallery
View All Pictures