Finally, a long-awaited fund-raising campaign of Namaste Community Foundation-Nepal will be executed after three months on February 10, 2018. This has been a long wait for all of us but with lots of excitement we are happy to announce that this campaign will finally be on the field on February 2018. Although planned for 2015, some circumstances like earthquake, undeclared blockade from India, avalanche in the Annapurna circuit area etc. has forced us to finally execute in 2018. Our great appreciation Izabella Schultheis, Alan Briggs and everyone who have supported us in every way possible. Likewise, we would also like to thank every individual for being the most valuable part of walk for kids 2018.  For more information: http://walk.ncf-nepal.org.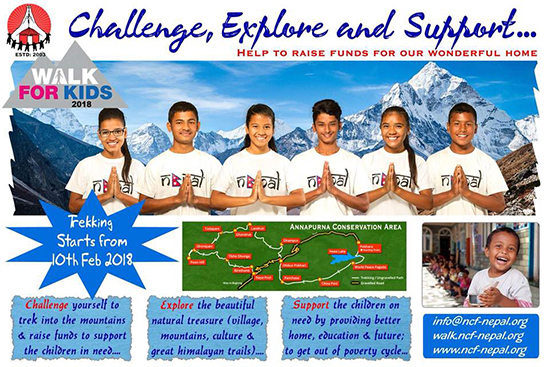 With all your support, cooperation, coordination and patience this long we are now almost ready to kick off the campaign, but we are not yet up to our target of 50,000 euros. That means we still need more support from you people. Therefore, we would still like to request to many other wonderful people around the world to help and support the campaign because we still have 3 more months to go and it is never too late to support the noble cause.

How you can help us?
It is very easy to join our "Walk for Kids 2018" Trek. You can participate by donating at least 50 m of the total distance. Each 50 m are worth 25 Euro or equivalent in other currencies. Or else you can help us in the following ways;

You can deposit your donation through:

Every donation is highly appreciated, accounted and fully transparent. 100% of funds raised will directly benefited towards the children well being.
Thanking you!
Visma Raj Paudel
Founder/Director
[email protected]
Please help us continue our mission by getting involved today! 
If you like to be part of these positive changes, you can simply join us to fight against poverty cycle.
For more information, please email and follow us: