"Success is simple. Do what's right, the right way, at the right time."
– Arnold H. Glasgow
Success stories of our six girls 
The Namaste Community Foundation (NCF) was founded in 2003, upon the realization that there was a very strong need to help and nurture the underprivileged children of Nepal. Our program provides a family-oriented, loving, nurturing and caring environment to hundreds of children in Pokhara, Nepal. We are extremely overjoyed to share with you with the tremendous progress and impact we have made to our community, which stems directly from your time and investment.
It is very heartwarming to witness the transformation our children's lives – growing mind, body and soul – from early trauma and deprivation, to secured, independent, self-reliant and resourceful citizens of Nepal. We attribute this progression directly to the joint efforts of the whole NCF family, including past and present donors, charity partners, sponsors, supporters, well-wishers, local team members, volunteers, and dedicated staff.
Our founder, board members, advisory groups and governing body, facilitators would like to extend our warmest thank you for your past, present and ongoing support.
The NCF priorities remain consistent – our children's physical and mental well-being, with a very strong emphasis on education. Overall, our children have secured outstanding results in school. Recently, six girls from our Lakeside Orphanage have proved their excellence in their SEE (10th grade) final examinations.
3.45 GPA: Pragya Adhikari from Dhading
3.35 GPA: Moiti B.K from Bhalam, Kaski
3.05 GPA: Bina Shrestha from slum area of Kaski
2.70 GPA: Om Kumari Pariyar from Chitwan
3.00 GPA: Anita Goley from Hetauda
2.80 GPA: Astha Mahato from Chitwan
SEE Graduates- Development pictures (Before & After)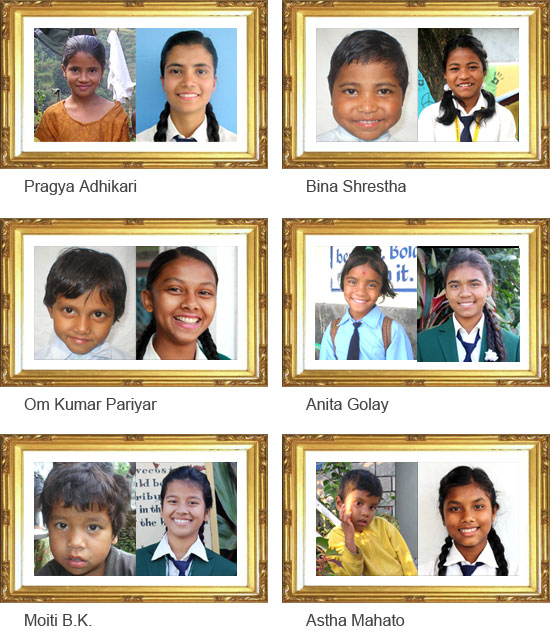 These children have been rescued from very traumatic backgrounds, from the streets, conflict areas, prisons and broken families in different parts of Nepal. We would like to congratulate all the SEE graduates for their outstanding performance. We are ever so confident in their future endeavors will continue to assist through their respective journeys. Since inception, out of 106 children rescued from various difficult situations: 73 children have been successfully reintegrated to society and are now self-reliant and working in their own respective fields. Our graduates have become supervisors, electricians, cosmeticians, registered nurses, teachers and plumbers. Using their skills learned during their tenure at NCF, a few graduates have become successful entrepreneurs and are adding value to the economic development of Nepal, while reducing poverty and increasing employment. Many graduates are now working abroad and supporting their own families. We are extremely proud of our children regarding their growth and integration into society. Today, 33 children are actively under our care, which is constantly improving, in many regards thanks to you.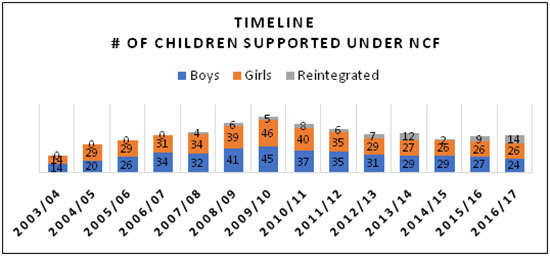 Our great appreciation goes to International Brothers and Sisters Home (IBSH) Australia for their partnership that directly supports these children for 10+2 and Bachelors' Degree level.This further support after 10th grader has a positive impact towards creating higher success rates in the children's in-dependency post-graduation.
Many blessings and thanks to those from Nepal and abroad who have supported us from the very beginning. Your continued love and financial support is essential to the existence and would love to have you as a part of our Namaste family. future growth of our organization. Our dream is to help more children and people of Nepal and we
A story… about a boy born in prison…and hope.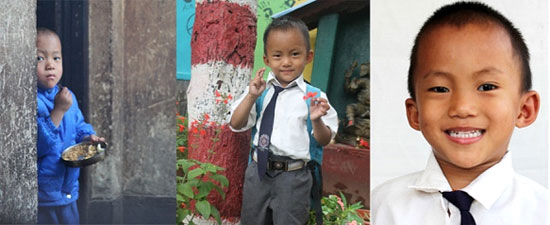 Arjun Magar was born inside a prison in Dhankuta District (eastern part of Nepal)–his mother was imprisoned for killing her own husband while pregnant. Because his mother doesn't have any other relatives, Arjun was forced to stay with his mother. in the prison, because the government doesn't have any programs to look after these children, Arjun's mother had to earn money to support Arjun by crafting and working inside. After he spent 4 years in prison with his mother, the news about him spread to a national newspaper that comes to our office every day. Within no time, our director. Mr. Visma Raj Paudel, sent one of the staff in charge together with two volunteers to rescue Arjun. It took a 17-hour drive to the prison, a few emergency meetings with government officials, and the filling in of many documents for become a guardian as well as to counsel his mother. Finally, he became a little prince and a lovely family member of NCF Nepal. Currently, he is studying in grade two in a reputed school in Pokhara and is enjoying his childhood with similar children at our house.
From Auntie Fee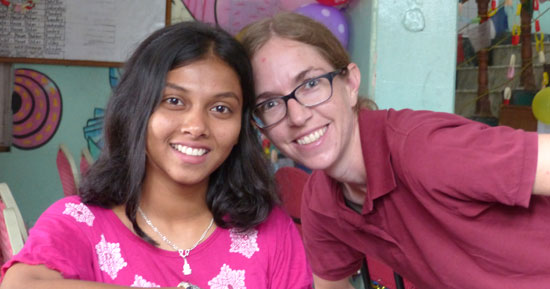 "End of last year I took the decision that I would like to do something different. I used to work for different industrial enterprises for the last 8 years and now I decided that it would be time for a social sabbatical to do something good. So finally, I traveled across the world to volunteer for an organization that is known as "Namaste Community Foundation, Pokhara" for five months in the beginning of May. To bring in my professional experience in helping in administration as supporting with annual reports, fundraising, updating website, generating a new presentation to present the whole foundation as well as presenting each dedicated program to support NCF to go a step further, translating official documents, writing biographies for each of the kids to be send to the godparents. Beside the administration work, for sure, I will also take some time to support the children home by playing with the kids, assisting in the kitchen at mealtimes, teaching and just having fun with them. Now I have already halftime and so far, I have the strong feeling that Namaste Community Foundation and especially the Children's House is a place so full of love and laughter. The house mothers and "didis" do a great job providing guidance, love, and support to each of the kids – a true family experience. Working with the staff is an incredibly inspiring experience. Since the beginning the kids are calling me "Auntie Fee" and it is always nice to reach the children home and get greeted with a lot of smiling faces. I will do my best to support the organization during my remaining stay with my knowledge. I am happy to get the opportunity to play a small part in the building at Namaste Community Foundation."
– Fee Grabner (always your Auntie Fee)
Please help us continue our mission by getting involved today! 
If you like to be part of these positive changes, you can simply join us to fight against poverty cycle.
For more information, please email and follow us:
To Donate: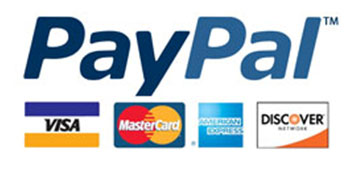 NCF boldly marches toward the goal of bringing a lifelong gift of love, caring and education to as many children and people of Nepal throughout Nepal as possible. Your one time or continued financial support is essential to our existence and future growth as an organization.
The easiest way is to send your donations in our bank account opened at Standard Chartered Bank Nepal Ltd.
Account Details:
Namaste Community Foundation
Standard Chartered Bank Nepal Ltd
Account No: 01-1269968-01
Swift Code: SCBLNPKA
Sincerely yours,