From the Director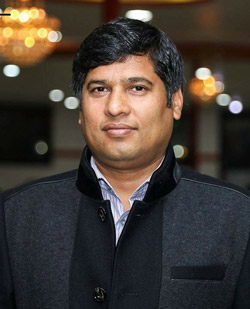 Namaste and a very warm greeting from Namaste Community Foundation-Nepal. Alike every year this Nepali New year 2074 has ended up for the entire Nepalese community making very good memories. As we have already entered the Nepali New year 2075, I personally would like to wish you all a very happy Nepali new year and a very best of luck for the coming days.
Coming to Namaste Community Foundation, year 2074 was a wonderful one. We came across many volunteers, well-wishers, accomplished many due activities, started up with new projects, results of children turned out to be excellent and many more. This all happened just because of the unimaginable effort of our charity partners who are and always will be there for us, your individual continuous help & support with all the best wishes, continuous hard work from our staff and the support & coordination from the board of NCF-Nepal. As this is all a cumulative success, I thank you all for being with NCF-Nepal in such a long journey within the field of humanity.
I am very proud to have you all as our team and a family member of NCF-Nepal. Even though we are far away and are divided by our country's territories, we still share the same feelings and stand together for humanity and equality for all.
Once again thank you for everything you have done for us.
Here is the list of activities that we have attempted to accomplish in the last couple of months.
Yet another opportunity to continue schooling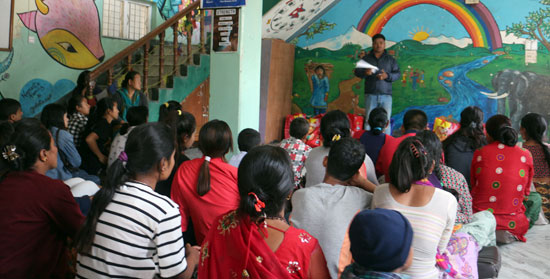 Children from different parts of Pokhara and surroundings are provided with an opportunity to continue their schooling via the scholarship department of NCF-Nepal. This year the scholarship distribution program was organized on 27th April 2018, in the premises of Namaste Community Foundation. As the number of children from the scholarship department is decreasing every year, the program was organized in a bit of an informal way. The reason for the decreasing number of children is because many of them upon completing their class 10 examinations, few of them failed repeatedly in the same class and some of them stayed separated from the organization for a longer period of time. The positive aspect of the decreasing number of children is, whichever child is now in the scholarship program are receiving a better quality education. At the same time because of the fewer children it is easy to manage and communicate with them.
Even though the number of children participating in the program was less, their excitement towards scholarship distribution was very high.
Training for an independent future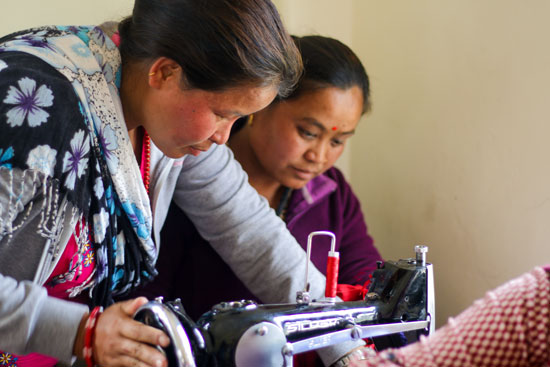 Similar to previous days, The Women Empowerment center at Ghachowk has organized 3 months of sewing and tailoring training, which was formally inaugurated on 23 February 2018. A total of 20 individuals participated in the training and are continuing to do so. This phase of training will end in May of 2018. After the formal closure of the training, all the participants will be supported financially to start up their own business with a soft loan. The concept of providing a soft loan is to equip the women with all the necessities to start up and run their business so that they can send their kids to school with financial independence.
A step towards income generation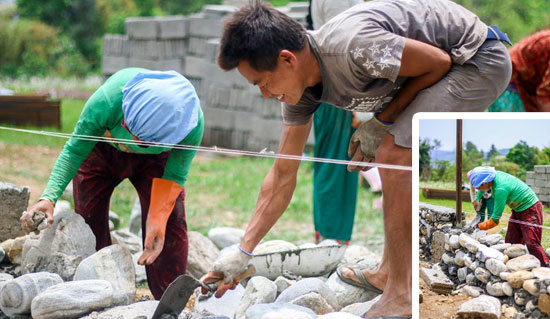 Every day is a new beginning and every beginning is an opportunity to start learning new things. With that in mind, we have taken a step towards income generation and self-sustainability. For income generation, we have started constructing a chicken farm. Broiler chicken farming is an entirely new project for the income generation and the self-sustainability of Women Empowerment project-Ghachowk. This project has already marched up, and around 40% the work is now complete. This project is assumed to generate sufficient funding for the self-sustainability of the project and hopefully we will be able to officially start this project by the end of June.
Year End Examination and Results
We have been showered with lots of good news from our children this year. Almost every student secured a excellent marks in their final examination and have been promoted to the next class. Bishaka and Niruta both did extremely well and secured A and B+ in their district level examination of class 8. This year the children have exceeded our expectations and have proved themselves to hard working individuals. A similar kind of motivation towards study can be seen in the children these days. We are very happy with these kinds of positive changes in the children.
Similarly, 5 of the children finished their class 10 final examinations. They have given their very best and hopefully this year will also receive the good news from the Secondary Education Examination (Class 10). So far, the children's main concern is that they have studied hard and will perform well in their exams but seem worried that they will not achieve the A grade minimum. Our best wishes are always with them and we anticipate that they will succeed in achieving their expectations.
Success Stories
There are several success stories of women from the Micro Finance department, however, for this edition of the newsletter we chose the story of Shanti Sapkota, Deepak Pariyar and Sushila Pariyar.
Shanti is 30 years of age, married and a mother to a 13-year-old boy. Although her husband has now remarried, they all continue to live happily in the same home with her mother in law. After the second marriage, she was completely ignored and was discriminated by the family members. As she didn't have a good source of income, she was forced to tolerate everything and live in the same family.
She joined our 3 months sewing and tailoring training in Ghachowk. She came into contact with us from one of our trainees from the first group of sewing and tailoring.
After training and with micro support she started her own tailor shop with some other people from her village. She is today doing very well with her shop and can feed herself for her livelihood. She is able to pay back the monthly installments from her earnings. She is now thinking
of expanding her business and wants to give training to those underprivileged women in her community.

Every individual has their own story, but our children have the most special among all of them. Let's talk about Deepak and Sushila Pariyar. These two are brother and sister from the same parents, but didn't had place to hide in their head at the time when they needed it most. They were infants and were unknown to the real world. They were rescued by NCF-Nepal, provided homely shelter, quality education, sanitation and health related facilities.
Today they are now adults and are doing their bachelor's degree in Chitwan. They are now self-independent for their financial needs and at the same time they are continuing their studies. They were reintegrated into NCF-Nepal after the completion of their 10+2 study, but are still receiving support for their university education.
We should say that the children who were assumed to be nowhere in this world today are living a good life and are continuing their education.
Support for the construction of technical school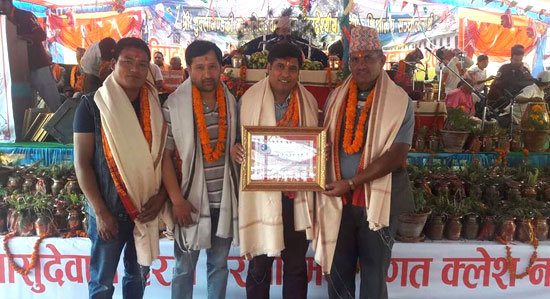 Namaste Community Foundation, Nepal is happy to support Sukla Gandaki Secondary School of Ghachowk (Machhapuchhare rural municipality-3, Bhalabot) with NPR. 101,000/- to construct a Technical School. Our Founder Mr. Visma Raj Paudel joined the program and we are all very happy to be part of this technical school, where the local villagers will get an opportunity to study technical subjects nearby with minimal fees.
Overseas Partner visit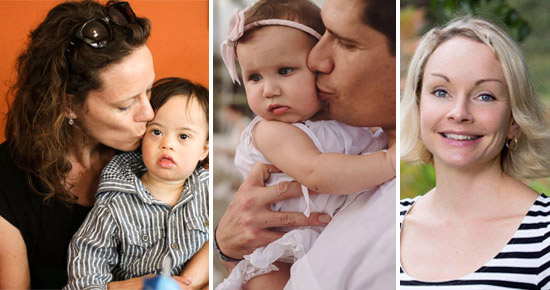 Alike every year we have welcomed our charity partner representatives. This kind of visit every year has helped us to boost up our relationships and sort out any point of confusions. This has also cleared the way way for further proceedings with lots of positive energies.
We have welcomed founder/Director of NF-NL Ms. Hilde Bleijswijk, Co-founder of Wind of Change International Mrs. Tuuli Vikstedt and Founder/ Director of IBSH Mr. Josh Porteous this year and we are very grateful towards them for their visit and anticipate the same kind of visits in the coming years.
Thank you
Man Singh Chaudhary
General Manager
Donations can be deposited through
Please help us continue our mission by getting involved today! 
If you like to be part of these positive changes, you can simply join us to fight against poverty cycle.
For more information, please email and follow us: