Nepal is a developing country where majority of people are dependent on agriculture for their livelihood. Amongst those, very few have managed to send their kids to at least secondary school but with the remaining, majority of them drop out of primary school because of poverty. Namaste Community Foundation, established in the year 2003, started its operation from a children's house but after the realization of actual scenario of the society we started distributing scholarship to the students. This scholarship facility has provided an opportunity to hundreds of students to continue their education at least up to class 10. We would like to thank to all our sponsors, donors, charity organizations, supporters & well-wishers for being with us till date in our campaign to educate Nepal.
Scholarship Distribution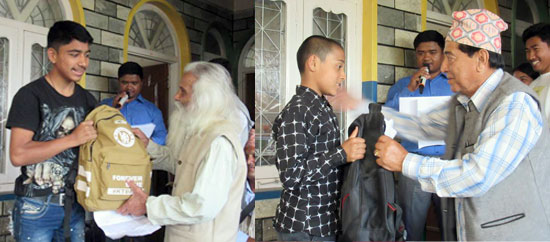 Scholarship distribution to the children was organized on 29 April 2017. The program was organized at the premises of Namaste Community Foundation. A total of 35 children were supported for their education with stationary materials, school bags, school uniform, shoes, socks, school fee, transportation & some part of medical expenses. Some of the board members were present during the program and the staff & children contributed a lot from their side for the success of program.
Walk for kids 2018

The fund-raising event of Namaste Community Foundation, Walk for Kids 2018 is approaching near and near, day by day. This event was initiated by Namaste Community Foundation in the year 2015 but because of some circumstances we were not able to execute the event. We will be now completing the event in the coming year 2018.
To support the event, our friend and two-time volunteer of Namaste Community Foundation Mr. Alan Briggs has showed his initiation towards the successful completion of the event. He is now raising funds for the event via https://www.100-days.net/en/projekt/walk-for-kids-2018.
If anyone of you are willing to support the campaign you can just visit the link above and to get full information about the event please click the link https://walk.ncf-nepal.org.
Starting of new life – Reintegration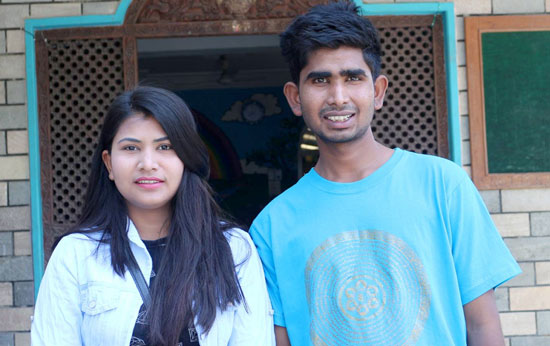 It's never easy to say good bye but this good bye is going to make our children even stronger and responsible in their lives. This month we reintegrated 2 boys and 1 girl for the very new beginning of their life. Sushila Pariyar, Deepak Pariyar and Purna Marasini were reintegrated back to their family/relatives. This reintegration was done after the completion of their higher secondary education level. They will be supported by Namaste Community Foundation partially for their university education.
We wish them a very bright future ahead and would like to wish them very best of luck for their future endeavor.
Step in to a new chapter of life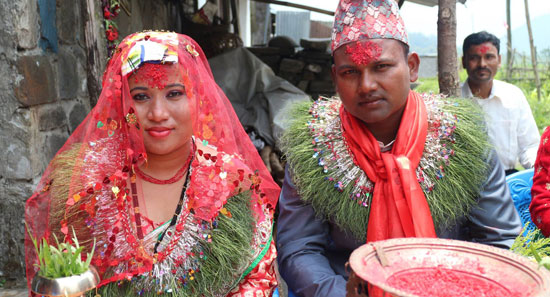 Congratulations to Ms. Samjhana B.K. for starting a new chapter of her life. Namaste Community Foundation-Nepal would like to wish both the bride and groom lots of happiness and most amazing years ahead together.
Celebration of Nepali New Year
Alike many other new year we welcomed this New Year 2074 with great joy. Year 2073 was full of fun and excitements. We celebrated all the festivals, met many new people, expanded the family also experienced some emotional moments but in-reality we experienced one whole year of life with some ups & downs but off course with many surprises.
We welcomed this year with some celebrations at our own home. We didn't organize anything big but we simply celebrated Nepali new year with some good food. Children helped house mother and sister preparing food and this is an initiation to the children towards realization of responsibility.
Time for final examination
As the new year 2074 started school's new session got already started but this new session has also ended the educational session for the students of class 12 with the ending of their final examination. All the children of Namaste Community Foundation did their level best in the examination and we are hoping for good results. We would like to thank the children for their hard work and would like to wish them the best of luck for their future endeavors.
Thanking you,
Man Singh Chaudhary