Organization's note
Day after another Namaste Community foundation is accumulating new family members and we are very thankful to god for granting us with such an opportunity. Family is getting bigger so does its impact. Every year lots of children counting in hundreds are getting benefited. Not only children single women of Nepal living under the level of poverty are also getting benefited. We are very thankful for the opportunity to serve for the most marginalized and vulnerable group of people here in Nepal. We would like to thank all our donors, charity partners, government line agencies, supporters, well-wishers and all our stake holders for having faith in us. also thanks to the women for being with us in a very supportive way and also for spreading words among family, friends and relatives.
Makar Sankranti Celebration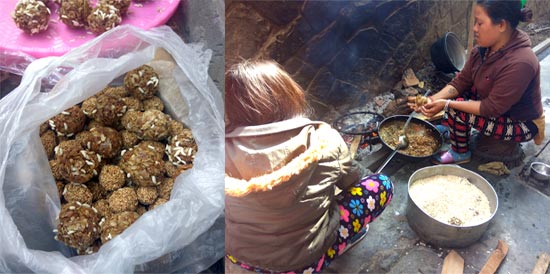 Alike many other festivals, Makar Sankranti is also a big festival among the Nepalese. Literally Makar Sankranti is the first day of Magh (January 14). People prepare chaaku (Traditional Newari Molasses) and many other sesame sweet items on this day. People also have yam and sweet potatoes on this day. We at Namaste Community foundation as well celebrated Makar Sankranti by preparing chaaku, sweets, yam and sweet potatoes. Thanks to all the house mother and sisters for all their hard work for the preparation.
Approval of Children Home Program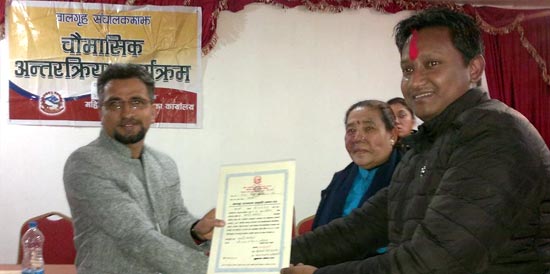 We are very proud and glad to receive an approval of children home program from District child welfare board. We have been serving for humanity especially in the field of children and women for more than 13 years and this new change from the side of government has finally made us distinct. This is the new policy from the side of government and has been implemented from this year. This certificate is issued to the children homes those who have followed most of the government rules & regulations and we are among the initial certificate receivers.
Thanks to the entire board members, advisory group, staffs, donors, charity partners, supporters, government bodies of Nepal and all our well-wishers for all their valuable inputs to make this happen.
Yet another good news 
Students those who appeared their supplementary examination of class 11 finally succeeded in achieving their goal. Purna Chhetri and Krishna Thami made this happen from the chance exam provided by National Education Board. We would like to congratulate the boys for the success and want them to be even more progressive in near future.
Promotional Videos 
There are billions of people all around the world. All of them want internal peace but in search, they travel here and there. Finally, when people grow old they realize the greatest peace is in serving for humanity. So, why make delay you can serve for humanity and for good cause by supporting our campaign walk for kids 2017.
Walk for Kids is a fund-raising campaign initiated by Namaste Community Foundation in the year 2015. This campaign is assumed to be effective enough to collect fund for the children's education, clothing, accommodation and medication staying here at Namaste.
In order to promote our walk for kids 2017 fund raising campaign we have made different videos expressing participants views about how they feel to be part of campaign. All the videos were posted on Facebook, Youtube and Vimeo. This video contains a lot more information about the campaign and is assumed to increase the number of supporters for a good cause. You can watch the videos from the link below.
Participation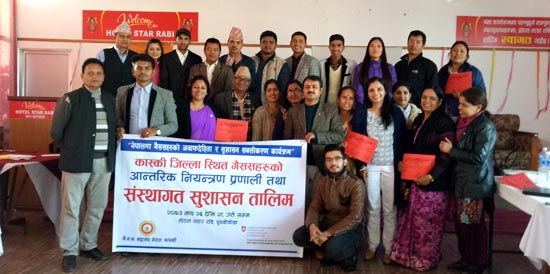 Seeing the need and requirement of the staffs as per time, they were sent to participate in different trainings to enhance their knowledge, skills and competency. Mr. Utsav Gurung and Asha Rana participated in tax training organized by NGO federation in collaboration with District Development Committee. Likewise, Mr. Gurung again participated in the 3 days training entitled good governance in NGOs/ INGOs organized by NGO Federation.
Similarly, Ms. Nitu Bhujel and Mr. Narayan Bahadur Karki also participated in 2 days training on child rights, child care, child psychology, etc. organized by District Child Welfare Board-Pokhara.
Likewise, Mr. Man Singh Chaudhary also participated in NGO Federation meeting and fellowship development program organized at Shanti Ban Batika. Participation of more than 100 social organizations of Kaski district including some children homes was witnessed.
Closing of refreshment training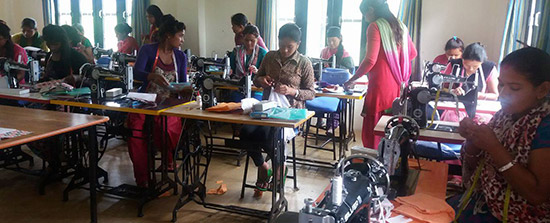 The refreshment training organized for the participants of sewing and tailoring group from the previous trainings finally ended by 7th March 2017. A total of 30 participants were enrolled in the refreshment training of one month. Mrs. Sajina Tamang was the trainer for the training. Ms. Alisha Malla facilitated the training from every way possible.
Exam-preparation
Pre-board and board exam of class 11 and 12 is up to the notch. Students are giving their 100% to achieve good results in the board exam. At the same time, extra class for the children are going on. General Manager for the organization Mr. Man Singh Chaudhary himself is taking extra class for accountancy and for mathematics children are visiting the nearest tuition center. Regardless of this some additional guidance is provided to the students by other staffs as well.
Refreshment and dinner program
As a part of refreshment staffs along with the children of grade 11 and 12 participated in a comedy show by Madan Krishna Shrestha and Hari Bansa Acharya at Dipendra Sabha Griha.  The tickets for the staffs and children was sponsored by the organization itself. The program was full of entertainment. In the evening a dinner program was organized for the students studying 11 & 12 by Alan Cope. All the children participated in the program, had a nice meal, and had fun. Thanks to Alan cope for such a wonderful time.
Thanking you for your past and continued support!!!