"Love and kindness are never wasted. They always make a difference. They bless the one who receives them, and they bless you, the giver."
– Barbara De Angeli
We would like to extend out warm greetings and Namaste from the Founder/Chairperson Mr. Visma Raj Paudel and from the entire NCF-Family.
We are happy again to present this newsletter with last month's major happenings. We hope that you will enjoy reading this edition as always you do in previous ones.
It's always a matter of pride when something you started, is beginning to bring you the positive results. We started with the children home 2003 and since than we have rendered ourselves in the humanitarian field to help the people in need. We even started different additional programs / projects like Scholarship Program, Micro Support Project, Namaste Handicraft Project, Glass Project, Hearing aid Nepal Project and Women Empowerment Program to serve the community and the nation in the best possible way. And now it's been already a journey of 14 years in the same respective field. We have tried our level best to provide equal opportunity to the deprived, abandoned and underprivileged children of Nepal.
Since the period of our establishment we have rescued more than 106 children from our children home project. Currently we still have 35 children in our children homes.
This year nine children completed their 12th grade and are already engaged in different sectors. Similarly, many of them today are well grown up and are serving for nation engaging themselves in various fields. We are so much happy to see all of them becoming financially independent and are today in the situation to look after their family.
Beside them also six children from our home passed their Secondary Education Examination with a very good grade.
Please let us know if there are any other possibilities to assist our good work in Nepal.
Sincerely yours!
Visma Raj Paudel
Founder/Chairperson
2. Success Stories
2.1 Children Home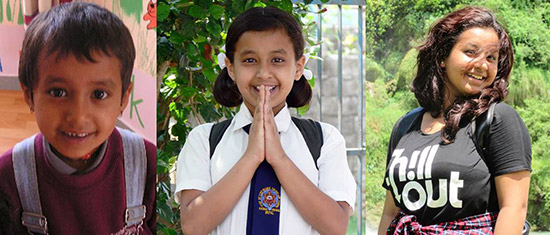 A friend in need is a friend indeed. Alike the saying NCF-Nepal turned out to be an artificial guardian to Sharmila Basnet who was desperately in need of help at Lamjung district. She was rescued from a traumatic situation in December 2004 from her grandparents and was reintegrated on May 2017 after the completion of her 12thgrade at school.
A clever, energetic, spunky girl with a feisty streak who loves to climb all over the monkey bars, play on the swings, and do all types of athletic activities at the age of 8; has completed her higher school. She is now a primary teacher teaching science and social studies in Little Angels Boarding School in eastern part of Nepal.
Its seems fate, but we are very proud to hear that she has become one of the favourite teachers in her class within a very short time of her teaching enrolment. This has been possible with the 12.5 years of great care, love, affection, discipline and most importantly the qualitative education; which has been carefully taken care of, while growing up the children at our home.
NCF Nepal has successfully empowered 71 orphaned children under our care and 35 are still under our care, getting ready to be able for the self-reliant independent lives.
If you like to be part of these positive changes, you can simply join us to fight against poverty cycle. For more information:www.ncf-nepal.org or send and an email: [email protected]
2.2 Scholarship Program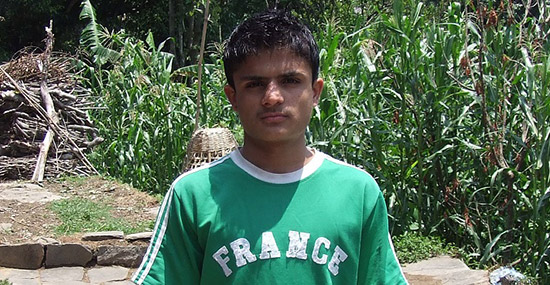 Dandapani, a young boy from Lwang was struggling to feed his family and at the same time was trying to acquire his education. His family condition was so poor that all family members were dependent on him. He was not only financially weak but also suffering from the problem of his nose.
He was supported on time by Namaste Community Foundation-Nepal for his education. He studied up to his 9th grade but could not pass. This was because he had to travel a lot to reach the school and in parallel he had to look after the family. Even though he was not able to get higher education he is today already engaged in a reputed restaurant as a waiter here at Pokhara. He is earning quite a sum of money and is doing his karma.
Today with the education he acquired – even though that's not much – he can at least do some calculations and increased his understand ability. With this he could get a job to feed his family or could also run some small business in his locality.
2.2 Women Empowerment Program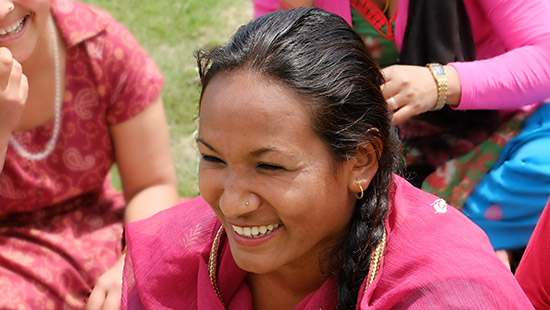 Sangita was 19 years old when she got married. But her marital life didn't go as antici-pated. Her husband went to India for work after the 20 days of their marriage. She was totally dependent financially upon her husband's family. They used to treat her very badly. She spent her life in a very traumatic situation, working all day long on the field and was not even getting enough food.
Her husband came back after a year but the situation didn't change. He used to get drunk all the time and was abusive as well. The situation got even worst and she even had a baby girl. After all those hard times, she left her husband's home and came back to her maternal home.
After spending some time with her parents, she participated at our 3 months sewing and tailoring training. As she had already a tailoring background she quickly learned things and graduated from the 3 months training. She was supported financially from Namaste's Micro support program to start her own business and today she is running one of the busiest tailoring shop in her locality. Currently, she is very happy with her business and is even able to send her daughter to school. She has saved some money for her daughter's bright future.
We are very happy to see her transformation of being financially independent and living a dignified life. Being a single mother it's never easy to live a respectful life raising a daughter in the society and we salute her for everything she has done. #salutetosangita.
3. Regular Activities
3.1 Children Home
3.1.1 Walk For Kids

The fundraising campaign of Namaste Community Foundation-Nepal is slowly approaching its execution date. This campaign is going to be executed on 10th of February 2018 and are being supported by many personalities abroad and in nation. We are very much thankful to all those good-hearted individuals for supporting our campaign and urge many other individuals to be the part of our campaign by supporting us.
You don't have to support the whole campaign, you can donate 25 Euro to sponsorper 50-meter distance of the trek and at the same time you can also ask your circles & families to support the campaign for a good cause. Your 25 Euro supports matter a lot to us and provides a hope to children of Nepal for their bright future.
3.1.2 Time to Cherish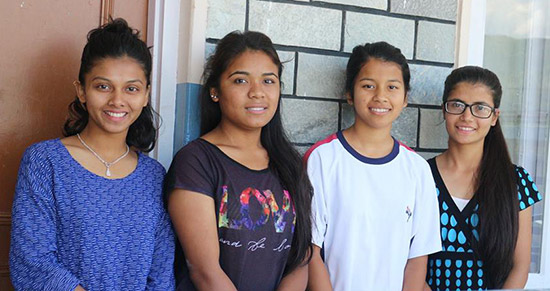 Yes, indeed it's time to cherish because our six children passed the secondary education examination with a very good grade. NCF priorities remain consistent – our children's physical and mental well-being, with a very strong emphasis on education. Overall, our children have secured outstanding results in school. Recently, six girls from our Lakeside Orphanage have proved their excellence in their SEE (10th grade) final examinations. See below the results of the children:
45 GPA: Pragya Adhikari from Dhading
35 GPA: Moiti B.K from Bhalam Kaski
05 GPA: Bina Shrestha from slum area of Kaski
00 GPA: Anita Goley from Hetauda
80 GPA: Astha Mahato from Chitwan
70 GPA: Om Kumari Pariyar from Chitwan
We would like to thank and congratulate all those children for their outstanding results and also would like to wish them a very best of luck in the future endeavor.
3.1.3 14th Anniversary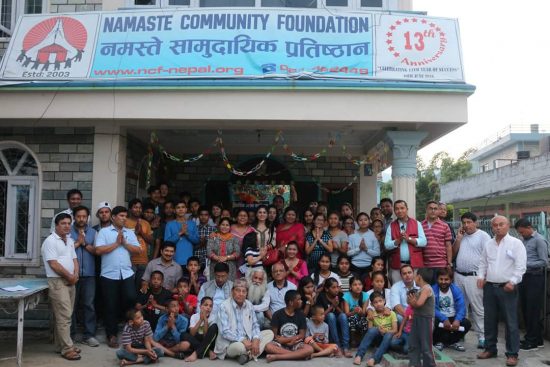 NCF-Nepal celebrated its 14th anniversary in its Lakeside children's house in the presence of board, general members, advisory committee, staffs and children. The journey of all these 14 years was never easy. We went through some rough times and sometime we have been in a financial crisis but we all managed to make it till date just because of all your generosity and continuous support. We would like to thank all our charity partners now and before, donors, supporters, well-wishers, board members, staffs, concerned authorities and off course children for all your contribution towards the sustainable development of the organization.
3.1.4 Support / Sponsorship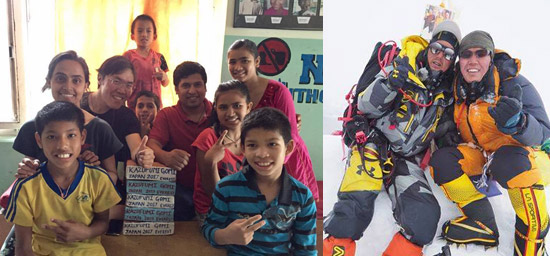 KaziGomi a Japanese national, a good friend and a person to climb the summit of the world (Mt. Everest) recently visited our children home and purchased some of the bricks for the well-being of the children here at Namaste. Congratulations to Mr. KaziGomi on succeeding to reach the summit of Mt. Everest and thanks a lot for supporting our brick campaign. We would love to see you in the coming days.
3.2 Scholarship Program
Not only our children house program but also the students from scholarship program passed their secondary education examination. A total of nine students appeared secondary education examination this year and all of them passed with a decent percentage. This is indeed a very great success for us because these are kids who could have never achieved their secondary education without the support of Namaste Community Foundation. The list of the children with their secured GPA and grade are enlisted below:
Congratulations to all of them for successfully passing their secondary education examination. We wish you all a very bright future ahead and best of luck for all your future endeavor.
3.3 Women Empowerment Program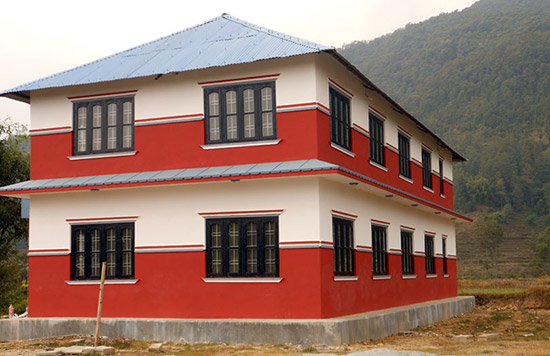 The initial stage of women empowerment project was not that easy as expected. This might be because of the location as the rural site of Nepal is geographically so tough. Similarly, the education level at the rural site very low and the understandability of people is so poor. Women empowerment project-Nepal is currently working at Ghachowk making its base point to Lakeside, Jarewar. It's been already three years working at Ghachowk and it was never easy. Nevertheless, we successfully completed five 3 months training at Ghachowk Women Empowerment Center.
At the moment, the staffs at women empowerment project is busy at collecting and screening the application for our 6th training. In-charge of WEP is busy collecting the installments from our past trainees and preparing the draft for impact measurement report.
3.4 Others
3.4.1 Community Foundation Conference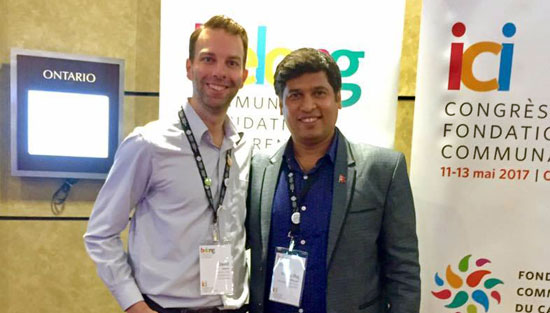 We are very much thankful to community foundation Canada for the warm invitation and hospitality in the community foundation International conference at Ottawa, Ontario. Founder/Chairman of Namaste Community Foundation-Nepal Mr. Visma Raj Paudel attended the program for three consecutive days with lots of interest and could learn more than anticipated. He was so much motivated by the conference and has already shared his experience with the staffs here in the organization and is determined to take NCF-Nepal to a new height
4. Appeal
Something impossible has been made possible by just few of the people's effort and still we can see some unimaginable change. But still there are lots of suffering in the world. People are deprived of hunger, illiteracy, sanitation and health. These could be eliminated if the entire world initiate on taking just a single step towards humanity. We as the Namaste Community Foundation-Nepal request each and every one of you to share hands to hand and join us to make the difference and to make the world a better place to live.
You can help us by simply donating some amount of money or else you can make you choice to donate from the link below:
http://walk.ncf-nepal.org/#participate, http://www.ncf-nepal.org/how-to-help-us/
Thanks to all of you for your generous support towards our programs and towards making a difference in someone's life.
5. Thanking you
We would like to thank all our sponsors, donors, charity partners, supporters, well-wishers and government line agencies for your generous support and for being a companion in our journey till date. Your support has helped us to change the lives of numerous children of Nepal and to continue our journey in the humanitarian field. Your every support keeps on motivating us to move further therefore we anticipate and request you to support us in the coming days.
6. Contact Person
7. Company Address
Namaste Community Foundation, Nepal
Post Box: 173, Jarewar, Lakeside, Pokhara-6
Tel.+977-61-462449
Fax+977-61-461679
E-mail: [email protected]
web: http://www.ncf-nepal.org
Please help us continue our mission by getting involved today! 
If you like to be part of these positive changes, you can simply join us to fight against poverty cycle.
For more information, please email and follow us:
To Donate: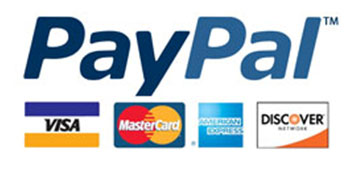 NCF boldly marches toward the goal of bringing a lifelong gift of love, caring and education to as many children and people of Nepal throughout Nepal as possible. Your one time or continued financial support is essential to our existence and future growth as an organization.
The easiest way is to send your donations in our bank account opened at Standard Chartered Bank Nepal Ltd.
Account Details:
Namaste Community Foundation
Standard Chartered Bank Nepal Ltd
Account No: 01-1269968-01
Swift Code: SCBLNPKA
Sincerely yours,