Dear NCF-Nepal's friends, well-wisher and supporters
Many Namaste and greeting from Nepal.
We are here again to present with our monthly newsletter. Please accept our apology this time as it came little bit late. We would like to begin our newsletter after thanking you for all your generosity which has made our Foundation's journey of 14 years possible in humanitarian field. Due to our joint effort, many children and women's life has been changed very positively. Fact is that it is very rewarding to help people over here in Nepal but at same time it makes us very vulnerable as we have to struggle all the time for enough funding. Some time we hesitate to request our supporter again for new funding but there is no other choice for us to follow for our organization's growth and assurance. Therefore, this time we are here to present you with our Walk for Kids project again.
Walk for Kids 2018 is a fund-raising campaign for the children of Namaste Community Foundation and is approaching near and near, day by day. This event was initiated by Namaste Community Foundation in the year 2015 but because of the earthquake of April 2015, unofficial blockade from India and the avalanche in the Annapurna region resisted us to execute the event.
After the earthquake, we were so much devoted towards the relief program for few months in the different earthquake prone area of Nepal like Gorkha, Sindhupalchowk, Nuwakot, Dhading and so on. Around 1000 families approximately 5000 people from different regions were supported with a relief packages. 600 earthquake affected students from three different schools of Gorkha were provided with stationary supplies. 55 families from Nuwakot were distributed with galvanized sheets for reconstructing their houses. Similarly, 30 doom houses were built in the very remote part of Gorkha where we can hardly find a space to walk.
Right after the earthquake we were traumatized by the unofficial blockade of India for around 6 months. Energy crisis was everywhere in NEPAL promoting black marketing of fuel. Similarly, avalanche in the Annapurna region kept us pushing behind from executing of Walk for Kids 2015.
But with all our determination, motivation and support from our well-wishers we are going to execute the event in mid-February 2018. So, we would like to request all the wonderful people to support our campaign and make it a huge success. Please note that by supporting our campaign you are contributing something towards the education of a Nepalese children.
We are getting a big support from a Swiss national Mr. Alan Briggs, two times volunteer for Namaste Community Foundation. He is now with a challenge to raise 15000 euros in 100 days to support our campaign Walk for Kids 2018. For more information about the campaign and to donate please visit https://walk.ncf-nepal.org .
At the same time, German National Fee Grebner is also helping us with all the overall organization's administrative and also with the promotion of walk for kids 2018 for the successful accomplishment of the campaign. A huge thanks to both the wonderful people for their initiation and dedication towards the accomplishment of the project. We are also expecting many other's support to make this children's event a successful one. Please adopt this project also as your own life changing project or refer this project to the potential donors or among your friends circles so that we can make it a grand success.
To support Walk For Kids 2018, please click donate

Scholarship Distribution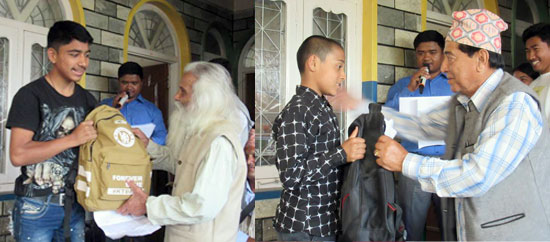 Nepal is a developing country where majority of people are dependent on agriculture for their livelihood. Amongst those, very few have managed to send their kids to at least secondary school but with the remaining, majority of them drop out of primary school because of poverty.
Realizing the actual scenario of the society and the situation of Nepalese education we started distributing scholarship facilities right after a year of our establishment. This year scholarship was distribution amongst 35 children on on 29 April 2017. The program was organized at the premises of Namaste Community Foundation.
Following table and line chart represent the number of children supported in different years over the last 13 years.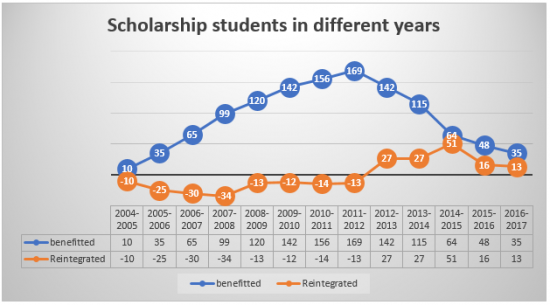 Starting of new life – Reintegration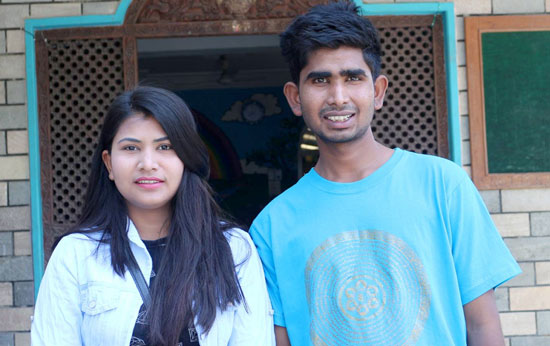 It's never easy to say good bye but this good bye is going to make our children even stronger and responsible in their lives. This month we reintegrated 2 boys and 1 girl for the very new beginning of their life. Sushila Pariyar, Deepak Pariyar and Purna Marasini were reintegrated back to their family/relatives. This reintegration was done after the completion of their higher secondary education level. They will be supported by Namaste Community Foundation partially for their university education.
We wish them a very bright future ahead and would like to wish them very best of luck for their future endeavor.
Following is the table representing the number of beneficiaries and the number of children getting reintegrated in different five years.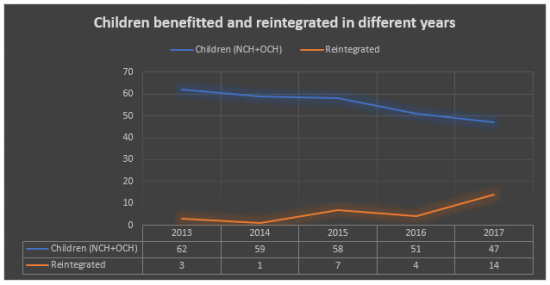 14 year's Journey from prison to school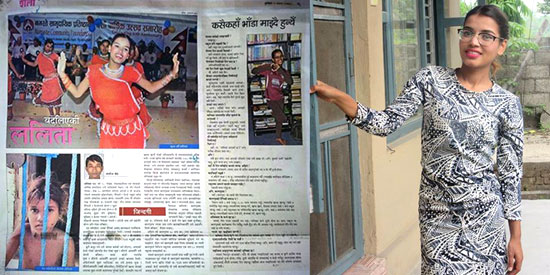 In the year 2003, we came to see an article on national newspaper. It was an article about a child in prison. Her name was Lalita shah and was just 6. She was immediately rescued and provided family like home, love, care, education, ensure child rights and groomed with best possible facilities to make her a good citizen.
Today, we are proud to see her transformation towards school teacher after completion of 12th grade in Pokhara with us. She has started to educate many other children nearby her home (Rajbiraj-Eastern part of Nepal) to transform from raw minds into awesome intellectuals'.
Wise Settlement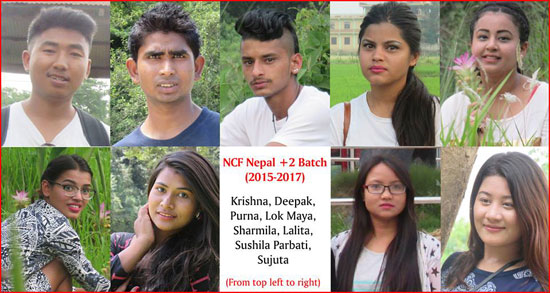 At the moment, we are very happy to know that the seed we have sowed has started to give fruits. All the children reintegrated after the completion of their 12th standard are now occupied in different jobs. It is the feeling of worthiness and we proudly share this success message of "Transforming Poverty into Independent Lives".
This achievement wouldn't have been possible without the support of all sponsors, donors, partner charities, well-wishers, staff and the board. So, we would like to thank all of them for their generosity and request them to continue the good work of donating.
Refreshment for +2 students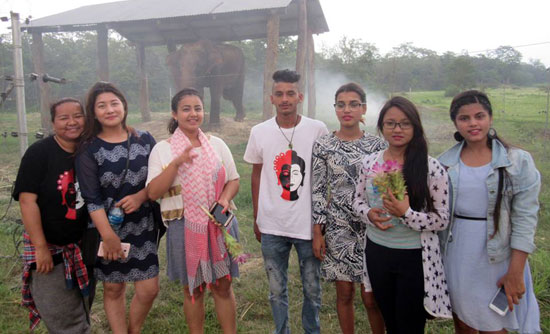 It was the refreshment time for all the +2 exam appeared children after all those strenuous study for around one and half month. They were all out for 3 days trip to Chitwan and this trip was sponsored by the Friends of Children-Germany. We would like to thank FoC team for this wonderful trip and also to IBSH Australia Team for caring these children to secure +2 level education.
Time for final examination 
As the new year 2074 started school's new session got already started but this new session has also ended the educational session for the students of class 12 with the ending of their final examination. All the children of Namaste Community Foundation did their level best in the examination and we are hoping for good results. We would like to thank the children for their hard work and would like to wish them the best of luck for their future endeavors.
Celebration of Nepali New Year 
Alike many other new year we welcomed this New Year 2074 with great joy. Year 2073 was full of fun and excitements. We celebrated all the festivals, met many new people, expanded the family also experienced some emotional moments but in-reality we experienced one whole year of life with some ups & downs but off course with many surprises.
We welcomed this year with some celebrations at our own home. We didn't organize anything big but we simply celebrated Nepali new year with some good food. Children helped house mother and sister preparing food and this is an initiation to the children towards realization of responsibility.
Step in to a new chapter of life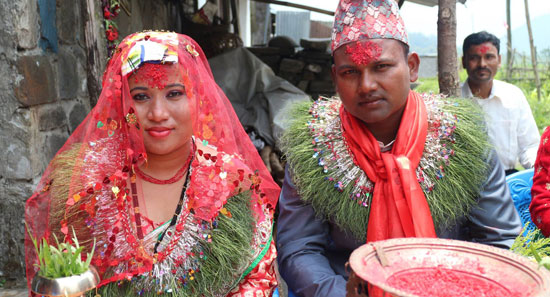 Congratulations to Ms. Samjhana B.K. for starting a new chapter of her life. Namaste Community Foundation-Nepal would like to wish both the bride and groom lots of happiness and most amazing years ahead together.
Thanking you,
Man Singh Chaudhary