Organizational note
The past year was very special for us as we have got to meet many highly supportive people throughout the year. Thus, we are very much looking forward to the upcoming year as there are many more people waiting to serve for humanity. People from all around the globe come to NEPAL to see and feel its Himalayan beauty. They interact with the heart-warming people and at the same time they give their best to help and support the society. We want to thank all of you for the wonderful support and the blessings. We look forward to continue accordingly in the future.
14th Annual general meeting and formation of the new board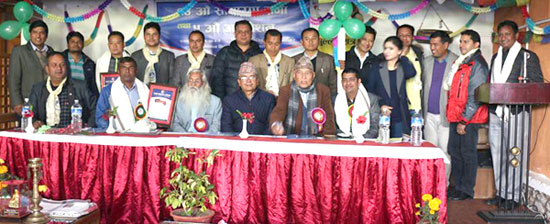 On December 13th 2017, the NCF-Nepal finally completed its 14th Annual General Meeting, electing the new board members. The new board was formed by everyone's mutual understanding. By an unanimous decision, Mr. Visma Raj Paudel was elected president for the organization. He is accompanied by Mr. Khadga Bahadur Gurung as the vice president. Furthermore, Mr. Sushil Bijukchhya was elected secretary and Mr. Suresh Chandra Pahari was elected treasurer. Mr. Khem Bahadur Dhakal, Dr. Thaneshwor Pahari and Ms. Hira Bhattarai were nominated as members of the board.
The Namaste Community Foundation wants to thank all of its past board members for their hard work and contribution towards the development of organization.
Closing of sewing and tailoring training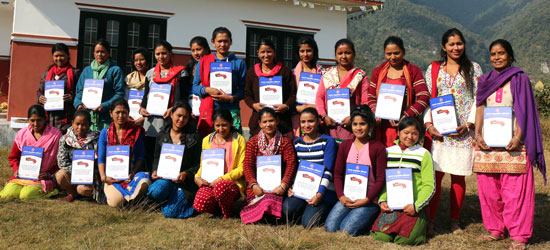 The training of sewing and tailoring as being part of the Women Empowerment Project in Ghachowk came to an end. It was December 18th 2017 when all of the 23 participating women graduated from their three- months full time training program. A small closing ceremony was organized at Ghachowk in which all women were awarded with a graduation certificate. Furthermore, there was presented a brief description about the self-sustainability program. Ms. Rasmaya Pariyar and Ms. Kalpana Nepali received an additional monetary prize for being the most regular participant.
The Namaste Community Foundation want to thank all of its participants, trainers, facilitators, partner charity organizations, government line agencies, local bodies and all the well-wishers for letting us serve the community by making this training program a successful one.
Winter clothes distribution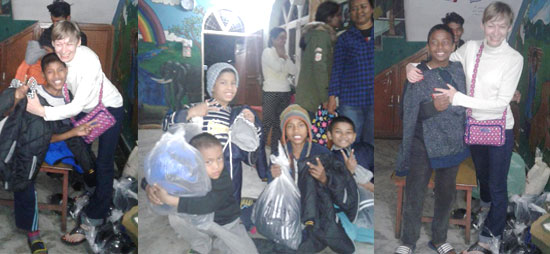 Winter is already here and as well are the winter clothes for the children at the Namaste Children's House. Ms. Svetlana Vashkevich from the United States, a former volunteer for Namaste, donated all winter clothes for the children living at our lakeside home. Thanks to Ms. Vashkevich for all your help, support and generosity. We will always be indebted for your help and support.
Gifts from Singapore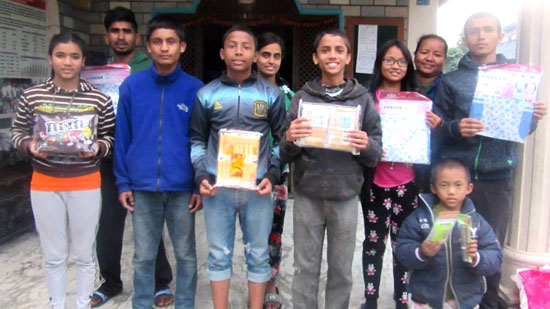 Perry Jian Kangyau from Singapore was here at Namaste Children's house as a volunteer for two months. Within those few months he developed a family-like attachment with the children and staff here. He also visited the Namaste home with his mother. She was pleased to see the work we are doing and wanted to support our project. After she went back to Singapore, she sent a lot of gifts for the children, including books, sweets, aprons and many more. Perry even sponsored two children for their education through our scholarship program.
Christmas celebration 

Like in previous years we celebrated Christmas with loads of fun. A small program was organized to celebrate Christmas in both of our houses. All of the children, staff members and volunteers were gifted with a Christmas gift, followed by a cake cutting ceremony and a delicious dinner. The Christmas party was sponsored by the Friends of Children Nepal e.v. in Germany. Many thanks to Raphael Ott (Director) and his team for the wonderful support.
New Year's Eve was also celebrated with fun and enthusiasm. During the day, the children were taken to the Pokhara street festival 2016, in the evening they were served with delicious food.
Thanks to all the donors, charity partners, government line agencies, supporters and well-wishers for being with us in the year 2016. We hope and anticipate for even more support in 2017 and the upcoming years.
Promotional videos for Walk for Kids 2017
The prescheduled event for April 2017 is due within 4 months. The due date is approaching very fast. Therefore, to make the event a grand success and to collect even more of funds from people all around the world, a number of promotional videos were developed. They were uploaded onto our official Facebook page, as well as on Vimeo and on YouTube.
Human and humanity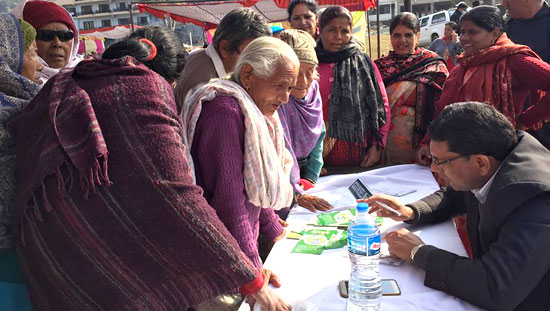 NCF Nepal together with other organizations, also including Chilly Bar and Restaurant, had the great honor to be part of the Free Medical Camp for elderly people of Lakeside, Pokhara. Many people highly benefitted from the camp. We are very thankful for the support given by the medical team, including Doctors, Nurses, Medical Officers, etc. Without them, this noble event would not have been possible.
Fellowship program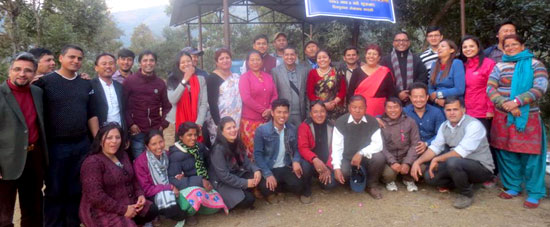 Two participants from the Namaste Community Foundation were engaged in a picnic program, organized on the 20th of January 2017 by the Network of Children Homes of Kaski. The main goal of the program was to increase the fellowship among children home representatives. Altogether there were 40+ participants, including government officials and members from Central Children Home Network. The NCF also enjoys being a member of the picnic management committee. The program was a huge success.
Thanking you for your past and continued support!!!