The festival season has begun, and our biggest festival is already very close to us, we would like to wish all our donors, partner charities, supporters, well-wishers, government line agencies and all the entire universe a very happy and prosperous Dashain.
Message from the Founder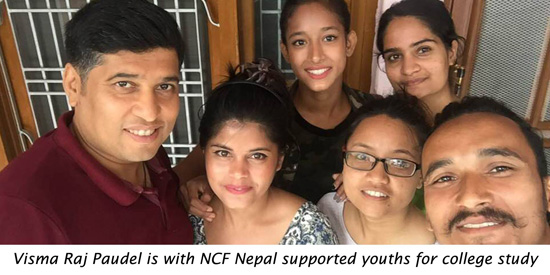 The journey of serving vulnerable, abandoned & underprivileged children and women of Nepal has already crossed 15th successful year and we are still determined, positively motivated and working hard to celebrate the joys that we together have created in hundreds of lives in Nepal.
This incredible journey of changing many lives in Nepal is not imaginable without the joint effort from all the partner charities, sponsors and well-wishers around the world. We greatly admire your concern, support and love from so far away. Running a social project without regular source of income is always a big challenge but we feel so lucky to meet you all, who continuously believed us and our social work.
I am very much hopeful and confident that your participation will always remain constant to make empower the lives of many underprivileged children and people of Nepal.
This newsletter contains:
Enrollment in new level
A hope of independence
Trek for Change
Extra curriculum activities
A journey towards independence
Our Appeal
Enrollment in new level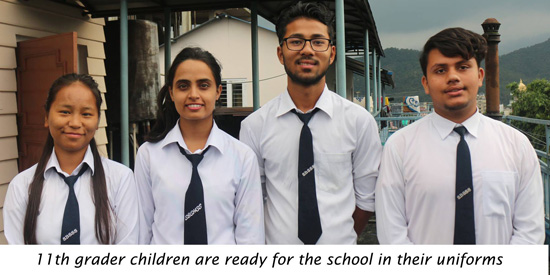 We are proud to share that the children who have completed 12th grade are ready to enroll Bachelor's Degree and the 10th grader students have already joined Step by Step Secondary School for 11th grade in management stream. They all are enjoying their new school, new books, new friend and new way of teaching.
A hope of independence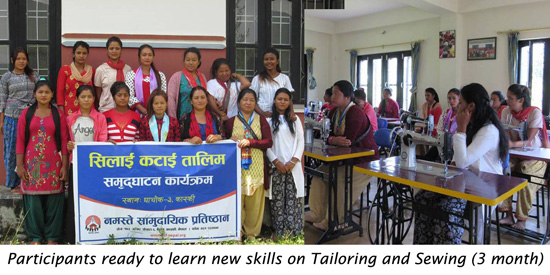 Our Women Empowerment Centre has already selected another group of 20 single women for the 3 months full time training on Tailoring. This is our 7th group excluding yearly refreshment trainings organized in our Ghachowk Centre. We would like to thank the Namaste Foundation, Netherlands for their continuous financial partnership to make the program successful. These women will again get a second opportunity in lives to create a financial freedom by gaining skills for next three months and a small seed fund to start their new business.
Trek for change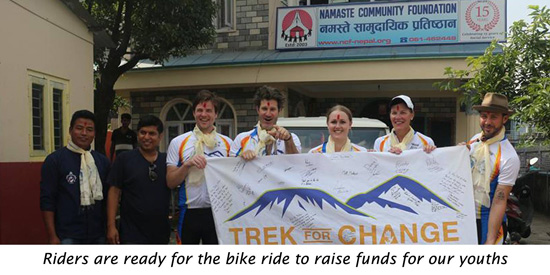 To raise funds for the youths supported under Namaste Community Foundation, our partner charity International Brothers and Sisters Home-Australia, has been organizing a bicycle ride with the technical support from Trek for Change-Australia. This year 5 bike riders are challenging themselves physically and emotionally, riding 340kms to raise funds for IBSH projects in Nepal. Through everyday hero thousands of dollars have already been raised to support the education of disadvantaged Nepali students. We thank all our riders and donors for their efforts so far. The Outbound Tours and Travels and our NCF Nepal staff is also working hard to make this campaign successful.
Extra-curriculum activities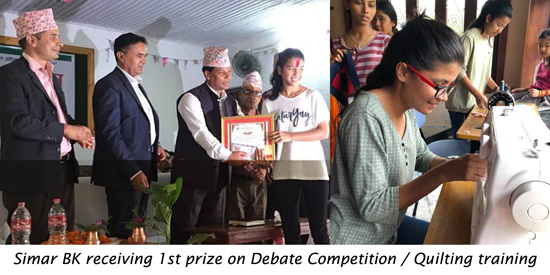 Apart from their regular studies, our children have been participating in various extra-curriculum activities this includes the quilting lessons in every weekend for youths (11th & 12th grader children), participating in dance competitions, art competitions, etc. We are also proud to share that Miss Simar (Moti) BK has secured the first position in debate competition organized among the children homes in Kaski district. This program was organized on the occasion of children's day.
A journey towards independence
Hello and Namaste. My name is Sumitra BK. I was rescued by NCF Nepal in 2003, together with my sister. We used to live in a venerable condition in the street waiting someone can help for. But, as soon as I joined the children home, I get a family like atmosphere where I enjoyed every second of my life either getting nutrition food, quality education, medical support and a psychological support to stand today's position of independence. It took 15 years of regular support to reach where I am today. I recently have completed 12th grade and ready to study for the college. I am now offered to work as receptionist in Himalayan Guest House, which allows me to independence in daily financial needs. Although this income might not be sufficient for my college study; but I am pretty sure that NCF Nepal and IBSH-Australia will support me to gain more formal education to fulfill my dream journey towards self-independence. I would like to thank all those kind hearts, donors, supporters, who have significantly contributed their hard-earned money and uncles and mummies from NCF Nepal who dedicated their young lives to nurture us.
Our Appeal
Love and Kindness are never wasted. They always make a difference. So, we would like to appeal our donors, supporters and well-wishers to put your first priority to invest money on children's well being and happiness through NCF Nepal. You may also choose a project to organize some fund in upcoming Christmas.
Our best regards and appreciation.
NCF Nepal Team
Donations can be deposited through
Please help us continue our mission by getting involved today! 
If you like to be part of these positive changes, you can simply join us to fight against poverty cycle.
For more information, please email and follow us: