Organization's note
Every time people from different places around the world visit us, we share wonderful experiences. The few moments they stay with us leave us with wonderful memories. Even if people come in for a very short visit, only spending an hour with us, both sides develop a bond, an attachment and a kind of intimacy, which then may provide the energy for these people to help and support a bright & secure future for the children here at Namaste.
Today we are touched by the recent influences of Mr. Alan Briggs from Switzerland. He made his first visit at Namaste back in August 2016 when he came to work as a volunteer for a couple of weeks. We quickly developed a family like relationship & intimacy and today Alan is helping our children house project by raising funds back in his home country Switzerland through our fund-raising campaign "Walk for Kids 2018". We request each and every one of you via this newsletter to support us by also supporting Alan Briggs and his campaign. So far Alan was able to collect almost 2000 Euros, having set his overall goal at 15,000 Euros. Every kind support is much appreciated, even the spread of word-of-mouth. To support Alan Briggs in his wonderful efforts and to help the underprivileged children of Namaste please visit the following website:
https://www.100-days.net/en/projekt/walk-for-kids-2018
Fun with students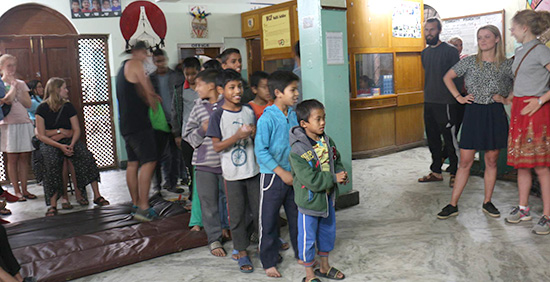 We had a program with a group of students from the Danish Open School on the 8th of March 2017. Some documentaries of our projects were shown to the Danish students from our side. They also organized an entertaining game for all the children of our home. The game was basically about that all children belong to the Universe. The program was very much entertaining and delivered a powerful message to the children here at Namaste. Many thanks to the students and to our children & staff members for their participation and support.
Celebration with colors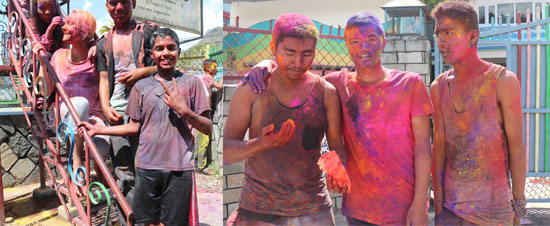 The Holi festival, one of the most joyful among all festivals in Nepal, was celebrated with lots of fun and energy at our lakeside home. The so-called festival of colors was celebrated by our children, staff, volunteers, donors and board members. The celebration was followed by a lunch program, offered by the director of Friends of Children-IV, Germany Raphael. Thanks to everyone for being part of the celebration and especially we want to give high appreciation towards Raphael for making the celebration even more joyful by sponsoring a delicious lunch.
Scholarship Distribution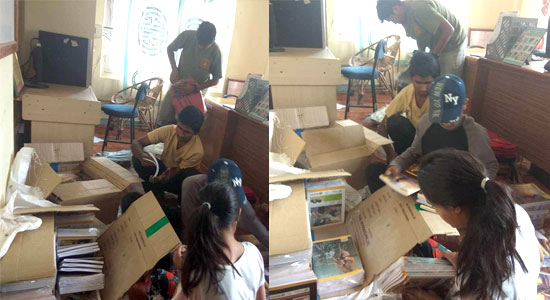 This year we are going to organize a scholarship distribution program on the 28th of April 2017, starting around 10am Nepali time. As by the end of April the new educational session will start in Nepal, we are glad to be able to organize the program just in time. All of our board and staff members, the scholarship students along with their parents, some representatives from partner charity organizations and representatives from government line agencies will be present on the day of the event. We would like to thank all of you for supporting us in our efforts in making Nepal educationally bright. However, we need many more of you to put your hands together for making Nepal even more educationally developed in order to lead the country and its students towards a bright future.
To help the students of Nepal and especially from Pokhara and surrounding villages within our scholarship program, you can register yourself for sponsorship. To support us, please fill up the form for scholarship in the link below and send it to us at [email protected] .
http://www.ncf-nepal.org/scholarship/
House Activities
The children here at Namaste participate in various house activities during their holidays. Students that had finished their SEE examination in school before the others, started to help the house mother and house sisters in their daily household duties. They are doing the work on a rotation basis, having distributed certain tasks among each other. By giving hand to daily routines, children are able to learn a lot of new things under the guidance of the house mother and house sisters. Over the years, this has been a comparative scenario for all SEE undergraduate children. Furthermore, the children are also involved in a lot of other creative activities, inside or outside the Namaste home. Especially our volunteers engage themselves in a lot of those activities by planning and preparing all necessary things beforehand.
Visitor from France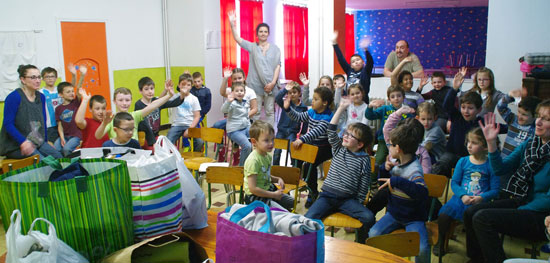 We had a wonderful opportunity to meet back our past visitor from France. We had wonderful moment with them here at Namaste. They were here with some clothes for the children here at Namaste. They collected those clothes from the elementary school namely MATHA ecole ND de la Providence, France. Further they were very much impressed with what we are doing here and would like to continue the support in the future with some exchange of culture as well. Thanks to all of them for their wonderful support and anticipate the same in the near future.
Completion of SEE and preparation for HSEB exam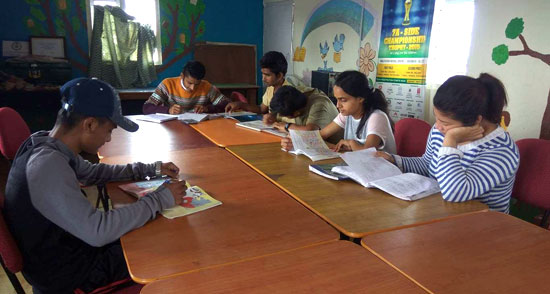 After a lot of hard work and continuous studies, all children from grade 10 have now finally completed their SEE examination. They are very happy for their accomplishment and also because of their fine performance in the examination. Hence, we are very much optimistic in terms of their results. All the children of Namaste Community Foundation who have appeared their SEE examination will soon be enrolled in computer training classes.
The children studying in higher secondary level of Nepalese education are currently busy preparing themselves for their upcoming board examination. We wish them all the very best of luck and success in their examination.
Thanking you,
Man Singh Chaudhary